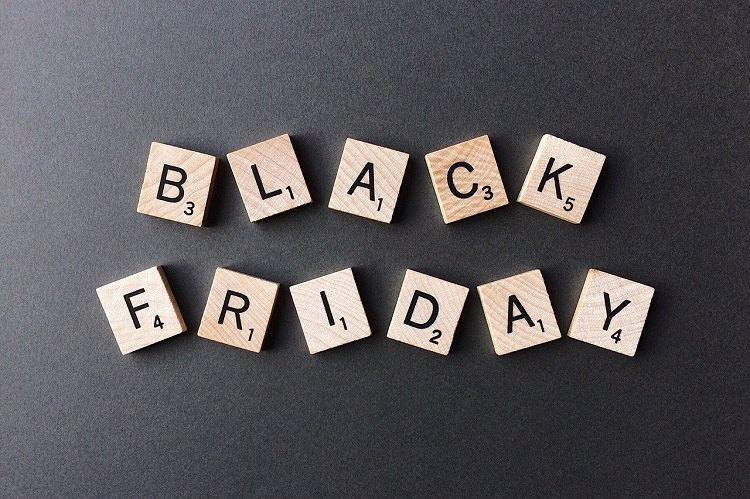 Black Friday is coming and there are loads of gift card deals coming up throughout the week
For the last few years, Black Friday gift card deals started long before the Friday itself. Even better, many deals that might ordinarily have only been available in-store are now also available online.
A similar thing appears to be happening for Black Friday 2023, with numerous deals already live and many of them being available online. To make it easier to keep track of what's going on sale and when, here's a master list of all the current and upcoming Black Friday gift card deals.
They're initially in date order based on when the deals go live, then in alphabetical order by store rather than gift card brand seeing as many stores have multiple deals going on. I'll be updating this post once or twice a day as new deals get announced and will be making it sticky on the home page so that it's right there whenever you visit the site over the course of Thanksgiving week.
n.b. This is a sticky post which means that it's pinned to the top of the home page. It's therefore still worth scrolling down the home page to see all the latest deals as this post will always show at the top even when newer deals have been published that haven't been added to this post yet.
If you'd like to stay up to date on the latest gift card deals after Black Friday, be sure to sign up for our free daily email newsletter. You'll get one email every afternoon listing all the new gift card deals from the previous 24 hours.
Black Friday 2023 Gift Card Deals
Deals Already Live By Sunday November 19, 2023
Barnes & Noble
Buy $100 Gift Card & Get $10 Gift Card Free
Bass Pro Shops/Cabela's
Save 10% On Holiday Gift Cards (Cards Valid On 12/25/23)
Best Buy
Gift Card Deals For DoorDash, Airbnb, Instacart, Adidas, H&M, Vudu, Fandango, Gap Options & Aeropostale
Buy $50 Dick's Sporting Goods Gift Cards For $42.50 (Plus & Total Members Only)
Big Y
Buy $100 Select Gift Cards For $90 (Dick's Sporting Goods, One4All, Instacart & More)
BJ's Wholesale Club
Gift Card Deals For Disney, Chipotle, GameStop, JCPenney & More
Gift Card Deals For Jiffy Lube, Barnes & Noble, Fandango & Vudu
Buehler's
Earn 2x Points On All Gift Cards
Cardenas Markets
Buy $100 Cardenas Markets Gift Cards For $89.99
Cash App
Get 10% Off One Walmart Order (Max $100 Spend, Buy Gift Card)
Cinemark Theatres
Buy $40 Gift Cards & Get $5 Bonus Cards Free
Coast Hotels
Buy $100 Gift Cards & Get $20 Bonus Cards Free
Costco
Buy 5x $20 Peet's Coffee Gift Cards For $74.99
Buy 2x $50 Synergy Restaurant Gift Cards For $57.99
Buy 2x $50 California Pizza Kitchen Gift Cards For $69.99
Cub
Buy $100 Select Gift Cards & Get $15 Cub Gift Card Free (One4All, Uber, Starbucks & More)
CVS
Buy $100 Select Gift Cards & Get $20 ExtraBucks Rewards (Wayfair, Chipotle & More)
Dierbergs
Buy $100 Select Gift Cards & Get $15 Rewards (Disney, Uber, Starbucks, Macy's & More)
Dollar General
Gift Card Deals For Uber, Google Play, Jersey Mike's, Bass Pro Shops & More
DSW
Buy $50/$100 Gift Cards & Get $10/$25 Bonus Cards Free
DXL
Buy $100 eGift Card & Get $20 Bonus Card Free
Family Dollar
Save 15% On Select $25-$50 Gift Cards (PlayStation Store, Roblox & Xbox)
Galaxy Theatres
Buy $50 Gift Cards & Get $15 Concession Cards Free
GameStop
Save 10% On Gift Cards For Gaming, DoorDash, Instacart & More
Giant Eagle
Earn 2x (Member) Or 4x (Pro) Perks For Every $50 Spent On (Nearly) All Gift Cards
Giftcards.com
Save 10% On Uber Gift Cards, 5% On Select Choice Gift Cards
Half Price Books
Buy $25 Gift Cards & Get $5 Bonus Cards Free
Hawaiian Airlines
Buy $500/$1,000/$2,000 Gift Card & Get 10% Bonus Gift Card Free With Promo Code CYBER23
H-E-B
Buy $50 Select Gift Cards & Get $10 H-E-B Gift Cards Free (Chipotle, McDonald's & More)
Homeland
Buy $100 Homeland Gift Cards For $90
Hy-Vee
Buy $50+ Choice Gift Cards & Save 50c Per Gallon
Ibotta
Earn 10%-20% Cashback On Select Gift Cards (Uber, Big Lots, American Eagle & More)
Kalahari Resorts
Buy $250/$1,000 Kalahari Resorts Gift Card & Get 10%/20% Bonus Gift Card Free
Kinney Drugs
Save 10% When Buying $25+ Home Depot Gift Cards
Kroger
Gift Card Deals For One4All, Uber, Choice, Kohl's, Macy's & Many, Many More
Earn 4x Fuel Points On 3rd Party Gift Cards & Fixed-Value Visa & Mastercard Gift Cards
Lowes Foods
Buy $100 Select Gift Cards & Get $15 Off (Belk, DoorDash & More)
Marcus Theatres
Buy $25 Gift Cards & Get $5 Snack Cash Free
Megaplex Theatres
Buy $25 Gift Cards & Get $5 Bonus Cards Free
Newegg
Gap, Fanatics & Nintendo eShop
O'Charley's
Office Depot/OfficeMax
Buy $100 Select Gift Cards & Get $20 Rewards (Choice, Giving Good & Spafinder)
Buy $300+ Mastercard Gift Cards & Save $15 Instantly
Planet Hollywood
Buy $50 Gift Cards & Get $10 Bonus Cards Free
Price Chopper (NY/PA/CT/MA)
Earn 5x Points On All 3rd Party Gift Cards
Publix
Buy $50 Select Gift Cards + $50 Groceries & Get $10 Off (Uber, Macy's, DoorDash & Panera)
Raley's/Bel Air/Nob Hill Foods
Earn 15x Points On Select Gift Cards (Nike, Kohl's, Starbucks & More)
Redner's Markets
Buy $100 Select Gift Cards & Get 75k Points (Disney, Uber, Starbucks, Instacart & More)
Ridley's Family Markets
Buy $50 Any 3rd Party Gift Card & Get $10 Ridley's Gift Card Free
Rite Aid
Earn 16%-20% BonusCash On Select Gift Cards (Kohl's, Wayfair, Barnes & Noble & More)
Safeway/Albertsons
Buy $150 Select Gift Cards & Get $25 Off Next Purchase
Earn 10x Points When Buying $50+ Vudu, Fandango & GolfNow Gift Cards
Save Mart/Lucky Supermarkets
Buy $50 Select Gift Cards & Get $10 Store Gift Card Free (Kohl's, Nordstrom, Chipotle & More)
ShopRite
Buy $100 Any 3rd Party Gift Cards & Get $20 Off Next Shopping Order
Smart & Final
Buy $100 Select Gift Cards & Get $15 Off Next Purchase (DoorDash, Instacart & More)
Stater Bros
Buy $50 Select Gift Cards + $10 Groceries & Get $10 Off (Uber, Choice & More)
Studio Movie Grill
Buy $25 Gift Card & Get Movie Ticket Free
Target
Gift Card Deals For Under Armour, Regal, Panera, Fandango, Vudu, Domino's, GolfNow & Jiffy Lube
Buy $100+ Disneyland Ticket Gift Cards & Get $15 Target Gift Cards Free
The Children's Place
Buy $50 Gift Cards & Get $10 Bonus Cards Good On $40+ Purchase
Topgolf
Buy $75 Topgolf Gift Cards & Get $25 Bonus Cards Free
Tops
Buy $50 Groceries & Get $10 Off $50 Select Gift Cards (Best Buy, Kohl's, Uber & More)
Walgreens
Buy 2x Select Gift Cards & Get $10 Walgreens Gift Card Free (Wayfair, Burlington & H&M)
Weis Markets
Earn 4x Points On $100+ Third Party Gift Cards
Deals Added/Updated Monday November 20, 2023
Bowlero/AMF/Bowlmor
Buy $75/$100 Gift Cards & Get $15/$25 Bonus Cards Free
Brooks Brothers
Buy $150 Gift Card & Get $25 Gift Card Free
Capital One Shopping
Earn $50-$75 When Referring Other Users
Costco
Buy 4x $25 Best Of Italy Gift Cards For $74.99 (Bertucci's, Bravo!, Brio & Buca di Beppo)
Buy 2x $50 Romano's Macaroni Grill Gift Cards For $69.99
Buy 2x $50 SPB Hospitality Gift Cards For $69.99 (Logan's Roadhouse, Old Chicago, Rock Bottom & Gordon Biersch)
Buy 2x $50 Sullivan's Steakhouse Gift Cards For $69.99
Buy 2x $50 Pinstripes Gift Cards For $69.99
Delta
Buy $400+ Delta Gift Cards & Earn 3x-7x Bonus Miles
Famous Footwear
Buy $50 Gift Cards & Get $10 Bonus Cards Free
Fontainebleau
Buy $250-$1,000 Gift Cards & Get 20% Bonus Cards Free
Get Air Trampoline Park
Buy $25 Gift Cards & Get $10 Bonus Cards Free
GiftCardGranny
Save 3%-15% On Select Gift Cards (Lowe's, Barnes & Noble, Shutterfly & More)
JOANN
Buy $25-$100 eGift Cards & Get $5-$30 Bonus Cards Free
Marcus Theatres
Buy $25 Gift Cards & Get 2x $5 Snack Cash Free
MastercardGiftCard.com
Save 50% On Shipping Fees With Promo Code CYBER2023
Simon Mall
Buy $100 Select Gift Cards & Get $15 Simon Visa Gift Card Free (PlayStation Store, Michaels & More)
TheGiftCardShop
Save 50% On Visa & Mastercard Gift Card Purchase Fees With Promo Code 2023CYBER50
Tommy Hilfiger
Buy $50 Gift Cards & Get $10 Bonus Cards Free
Deals Added/Updated Tuesday November 21, 2023
Best Buy
Buy $100 Apple Gift Card & Get $15 Best Buy Gift Card Free
Kroger Online
Gift Card Deals For Choice, Kohl's, Big Lots, Starbucks & More
MyGiftCardsPlus
Earn $0.50-$5 Bonus Cashback When Spending $25-$300
Office Depot/OfficeMax
Buy $100 Select Gift Cards For $85 (Uber, Barnes & Noble, PetSmart & More)
Rakuten
Earn 5%/5x In-Store At Staples When Paying With Linked Card
Staples
Save 10%-30% On Select Gift Cards (Choice, AMC, Subway, Chipotle, Grubhub & More)
Deals Added/Updated Wednesday November 22, 2023
Brookshire Brothers
Buy $50/$100 Gift Cards For $40/$80 (ChooseYourCard, Kohl's, Academy & More)
Chipotle
Buy $40 Gift Card & Get BOGO Entrée Coupon Free
Costco
Buy $500 Airbnb Gift Cards For $449.99
eGifter
Buy $50 Express & Spa & Wellness Gift Cards For $40
H-E-B
Gift Card Deals For Home Depot, ChooseYourCard, Lowe's, Airbnb & Many More
Marc's
Buy $25 Select Gift Cards For $21 (Uber, Xbox & PlayStation Store)
Newegg
Buy $50 Adidas Gift Card & Get $15 Adidas Bonus Card Free (Bonus Card Expires 3/31/24)
Raise
Earn 10% Raise Cash On Lowe's Gift Cards
Rakuten
Earn 12%/12x With Linked Card In-Store (H&M, Tommy Hilfiger, Adidas & Many More)
Regal Cinemas
Buy $50 Gift Cards & Get $15 Concessions Bonus Cards Free
Staples
Buy $50 Select Gift Cards For $42.50 (Choice, Southwest, Ulta, DoorDash & More)
Deals Starting Thursday November 23, 2023
Amazon
Buy $50 Google Play Gift Cards & Get $5 Credit Towards App, Game Or In-App Purchase
CardCash
Save 5% Sitewide When Using Promo Code THANKSGIVING (Ends 11/26/23)
Columbia Sportswear
Get $15 Rewards For Every $100 Of Columbia Sportswear Gift Cards
Costco
4x $25 Select Gift Cards For $74.99 (Domino's & Red Lobster)
Buy $500 Southwest Gift Cards For $429.99
Dollar General
Duluth Trading Co
Save 25% When Buying $100+ Gift Cards
Fandango
Save 20% When Buying $50+ Fandango Gift Cards With Promo Code NOVFLASH23
Gift Card Granny
Get Free Shipping On Visa & Mastercard Gift Cards With Promo Code NOV2023
Giftcards.com
Save 10% On Uber & Gap Gift Cards, 15% On Big Lots, 5% On Choice Dining
Kroger
Buy $150+ Visa Or Mastercard Gift Cards & Get $10 Off With Promo Code THANKFUL23
Marcus Hotels & Resorts
Buy $100 Gift Cards & Get $25 Bonus Cards Free
Newegg
Buy 2x $100 Instacart Gift Cards For $180
Raise (Formerly Slide)
Earn 15% Raise Cash On Under Armour Gift Cards, 20% On Shutterfly
Safeway/Albertsons/United Supermarkets
Earn 8x Points When Buying $50+ Fanatics Gift Cards
Sam's Club
20% Off Southwest, Instacart & Gap Options, 10% Off Bass Pro Shops
Shop 'N Save
Earn 30c Off Per Gallon Of Gas For Every $50 Spent On Gift Cards
Spa & Wellness
Strand Book Store
Buy $100 Gift Cards & Get $20 Gift Cards Free
Target
Buy $100 Apple Gift Cards & Get $15 Target Gift Cards Free
Vudu
Save 20% When Buying $50+ Vudu Gift Cards With Promo Code NOVSALE23
Walmart.com
Save 10%-20% On Select Gift Cards (Xbox, Dave & Buster's, Topgolf & More)
Deals Starting Friday November 24, 2023
Ace Hardware
Buy $50 Gift Cards & Get $10 Gift Cards Free
Alamo Drafthouse
Buy $50+ Gift Cards & Get 20% Off
All Restaurants
Complete List Of Restaurant Gift Card/Promo Card Deals
Amazon
Gift Card Deals For Apple, Lyft, Instacart, DSW, Under Armour, Victoria's Secret & Many More
Bowlero/AMF/Bowlmor
Buy $100 Gift Cards & Get $35 Bonus Cards Free
Burlington
Buy $50 Gift Cards & Get $5 Bonus Cards Free
Carl's Jr
Save 50% On $50+ Gift Cards, 25% On Gift Cards Up To $50
Cinemark Theatres
Buy $75 Gift Cards & Get $15 Bonus Cards Free
Costco
Buy 2x $50 Lucille's Smokehouse Bar-B-Que Gift Cards For $69.99
Dollar General
Gift Card Deals For DoorDash, PlayStation, Xbox, Burlington & More
Family Fare
Buy $100 Select Gift Cards For $70 (Lowe's, Kohl's, PlayStation Store & More)
Fluz
Earn Up To 12% Cashback On $50 Uber Gift Cards
Food City
Earn 5x Fuel Bucks When Buying $25 Select Gift Cards (PlayStation Store, GameStop & More)
Foodtown
Buy $100 Any 3rd Party Gift Cards & Get $20 Off Next Purchase
Frazier Farms
Buy $100 Frazier Farms Gift Cards For $89.99
Giant Food Stores/Martin's/Stop & Shop
Earn 3x Points On Visa Gift Cards, 10x On Select 3rd Party Brands
Giant Eagle
Earn 5x Perks For Every $50 Spent On All 3rd Party Gift Cards
Buy $150+ Mastercard Gift Cards & Get $10 Off
Gift Card Granny
Save 2% On Build-A-Card Visa & Mastercard Gift Cards With Code BLACKFRIDAY23
GolfNow
Buy $100 Gift Card & Get $10 Bonus Gift Card Free With Promo Code THANKGOLF23
Hardee's
Save 15% When Buying $25+ Hardee's Gift Cards
Hy-Vee
Buy $100 Any Third Party Gift Cards & Get $20 Hy-Vee Gift Cards Free
Lidl
Buy $100 Gift Cards & Get $20 Off Next Purchase
Lucille's Smokehouse Bar-B-Que
Mandarin Oriental
Buy $500+ Gift Card & Get 10% Bonus Card Free
Market Basket
Save 20% On Select Gift Cards (Uber, Macy's, DoorDash & More)
Meijer
Buy $50 Most 3rd Party Gift Cards & Get 20,000 Points ($20)
Newegg
Buy $50 Old Navy Gift Cards For $40
PetSmart
Buy $100 Gift Cards & Get $15 Bonus Cards Free
Raise
Earn 10% Raise Cash When Buying Airbnb Gift Cards
Royal Caribbean
Ruby Tuesday
Safeway/Albertsons/United Supermarkets
Earn 10x Points When Buying $50+ Google Play Gift Cards
Schnucks
Earn 5x Points When Buying $50+ Third Party Gift Cards
Starbucks
Buy $25 Gift Card & Get $5 Gift Card Free
The Fresh Market
Buy $75 Select Gift Cards & Get $15 Off Next Purchase (Macy's, Sephora & More)
Ulta Beauty
Buy $100 Gift Cards & Get $20 Bonus Cards Free (Ends 11/27/23)
Winn-Dixie/Harveys/Fresco y Mas