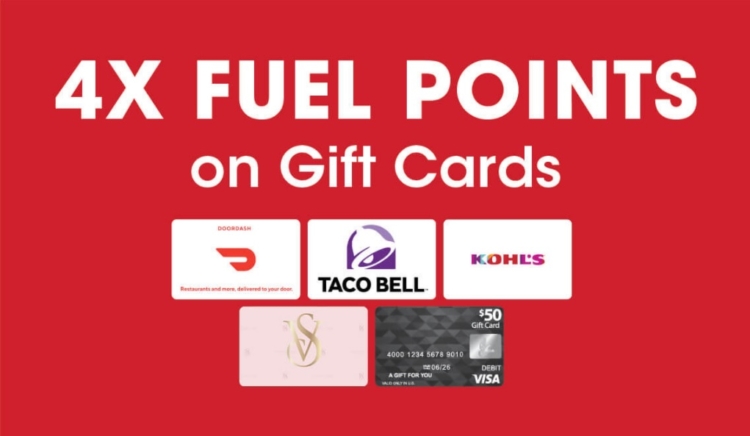 The Deal
Kroger & its affiliate stores are offering 4x fuel points on the following gift cards:
Key Terms
Offer valid November 15-December 5, 2023.
Excludes variable load Visa & Mastercard gift cards.
Tips & Ideas
When buying third party gift cards, 4x fuel points can be worth up to 14% off gas which is a decent amount of savings if you can refuel to the 35 gallon limit. The equations are different for the fixed-value Visa and Mastercard gift cards due to the purchase fees on them, but if you can refuel 13.5 gallons or more, buying $100 Visa or Mastercard gift cards can be profitable before taking into account the liquidation costs. See our complete guide to Kroger's fuel points program for more about how it works.
This offer should be available at all of Kroger's affiliate stores which include Ralphs, Fry's, Smith's, Fred Meyer, King Soopers, Harris Teeter and more.
To take advantage of this offer in-store, you have to load the digital coupons we've linked to above. For online gift card purchases from Kroger, you'll earn 4x automatically.
Past Deals
October 27-29, 2023
September 6-19, 2023
September 1-4, 2023
August 25-27, 2023
August 18-20, 2023
August 11-13, 2023
July 26-August 8, 2023
July 21-23, 2023
July 14-16, 2023
June 28-July 11, 2023
June 23-25, 2023.
June 7-20, 2023
June 2-4, 2023
May 26-29, 2023
May 19, 2023
May 3-16, 2023
April 28, 2023
April 21, 2023
March 29-April 11, 2023
March 8-21, 2023
February 1-14, 2023
January 11-24, 2023
January 6-8, 2023
November 16-December 6, 2022
October 26-November 1, 2022
September 7-20, 2022
September 2-5, 2022
August 26-28, 2022
August 19-21, 2022
August 12-14, 2022
July 27-August 9, 2022
July 22-24, 2022
July 15-17, 2022
June 29-July 12, 2022
June 24-26, 2022
June 8-21, 2022
June 3-5, 2022
May 27-30, 2022
May 20-22, 2022
May 4-17, 2022
April 6-19, 2022
March 9-22, 2022
February 2-15, 2022
January 7-9, 2022
November 17-December 7, 2021
September 8-21, 2021
September 3-6, 2021
July 28-August 10, 2021
July 16-18, 2021
June 30-July 13, 2021
June 9-22, 2021
May 28-31, 2021
April 28-May 11, 2021
March 24-April 6, 2021
March 3-16, 2021
February 26-28, 2021
January 28-31, 2021
November 4-December 8, 2020
September 9-22, 2020
September 4-7, 2020
July 29-August 11, 2020
June 10-23, 2020
May 22-25, 2020
April 29-May 12, 2020
March 30-April 15, 2020
March 11-25, 2020
February 28-March 1, 2020
January 30-February 2, 2020