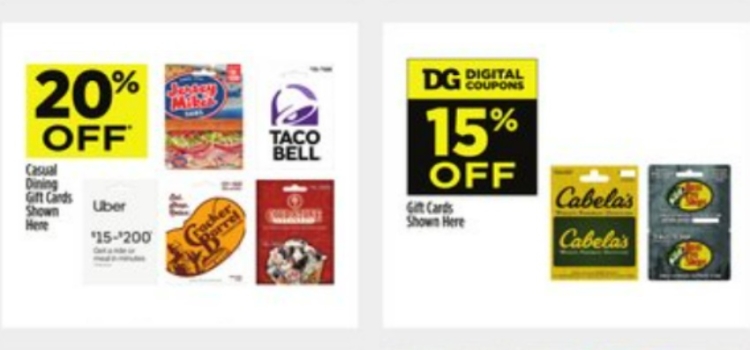 The Deal
Dollar General is offering the following new gift card deals:

Buy 2 Google Play gift cards & get $5 off
Save 20% on the following gift cards

Uber
Jersey Mike's
Taco Bell
Cracker Barrel
Cold Stone Creamery

Save 15% on the following gift cards
Key Terms
Expires November 25, 2023.
Google Play – limit 1 discount per customer.
Cabela's & Bass Pro Shops – digital coupon required.
Tips & Ideas
There are some good deals here, especially 20% off gift cards for Uber, Jersey Mike's and Taco Bell.
The Bass Pro Shops/Cabela's deal is listed as needing a digital coupon. I'm not seeing one available yet at the link above, so I'm not sure if there's a delay with that being loaded or if a digital coupon isn't needed. If one is needed, it'll mean there's a limit of one per account.
Dollar General is running a bunch of other gift card deals later this week that I'll post about separately.