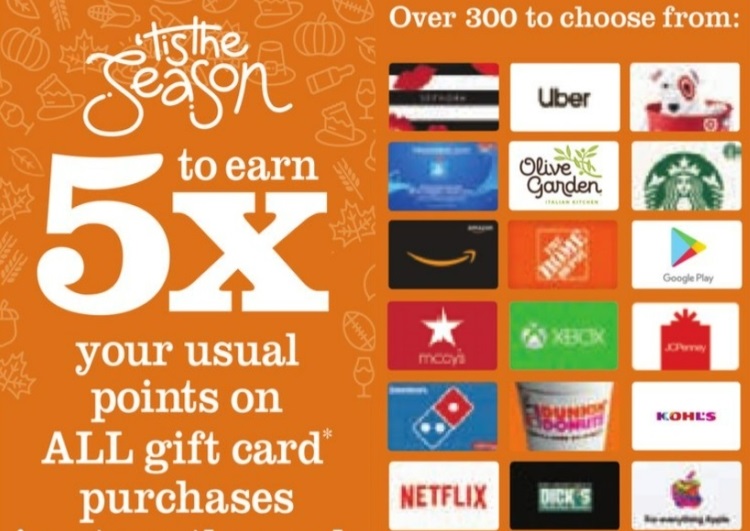 The Deal
Earn 5x points on all third party gift cards at Price Chopper stores in NY, PA, CT & MA.
Key Terms
Offer valid September 17-30, 2023.
Excludes Price Chopper, Market Bistro, Market 32, variable rate Mastercard and Visa cards, and general purpose reloadable cards.
Tips & Ideas
5x points can be redeemed for 5% off groceries based on the amount you paid for the gift cards. That means if you buy $250 worth of gift cards, you'll earn rewards which can be redeemed for $12.50 off groceries. It's not 5% off in the way that Giant Eagle offers a percentage off your grocery shop when redeeming points which is a discount that applies to your entire grocery shop regardless of how much you're spending.
5% back isn't an amazing return on things like restaurant gift cards, but for higher value brands like Best Buy, Home Depot, Amazon, Apple and eBay, it can be a useful offer.
This offer will be available online, but it usually doesn't show up on there until a couple of days into the promotion.
As always with grocery store gift card deals, paying with a card that has grocery stores as a bonus category can make the deal even more rewarding.
Past Deals
August 20-September 2, 2023
July 2-15, 2023
June 11-24, 2023
April 30-May 20, 2023
March 5-18, 2023
January 29-February 14, 2023
November 13-December 10, 2022
August 21-September 3, 2022
July 3-16, 2022
May 29-June 18, 2022
May 1-8, 2022
January 30-February 12, 2022
November 14-December 11, 2021
August 22-September 4, 2021
April 25-May 9, 2021
February 1-14, 2021
November 22-December 12, 2020
August 16-29, 2020