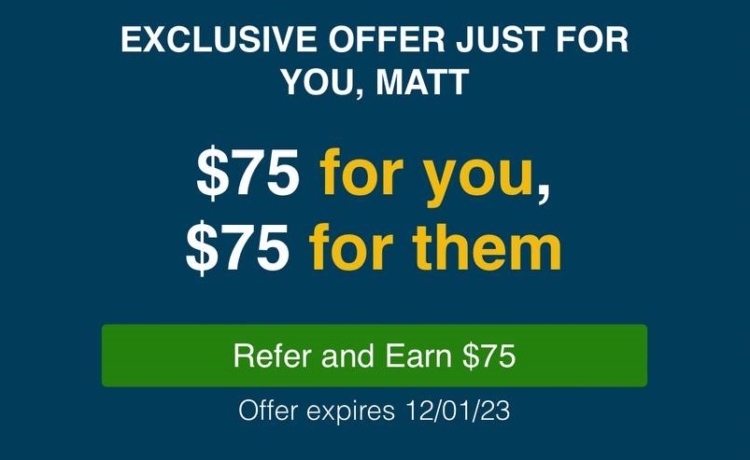 The Deal
Earn $50-$75 when referring someone to Capital One Shopping & they spend $10.
Key Terms
Expires December 1, 2023.
To qualify for a referral sign up bonus, your refer-ee must be a new Capital One Shopping user, sign up and install the Capital One Shopping desktop computer or mobile browser extension via your referral link, and make Qualifying Purchase(s) totaling $10 within 30 days of signing up.
Limit $300 in referral earnings.
A Qualifying Purchase means a purchase via Capital One Shopping that earns Capital One Shopping Rewards.
By participating in the referral program, you are telling your refer-ee that you're a Capital One Shopping customer.
Bonuses will be automatically applied to your account and your refer-ee's account within 30 days after satisfying these requirements, but issuance may be delayed during the determination of whether a Qualifying Purchase has been made by a new user.
You may only earn bonuses for a limited number of referrals per referral period.
Bonuses will be awarded as Capital One Shopping Rewards, and are subject to the Capital One Shopping Terms of Service.
Tips & Ideas
The amount you're able to refer for is targeted. I got an email advising that my referral offer was $50, but reader Matt gave me a heads up about a much better $75 offer. I've therefore added his referral link above so that you can get the best bonus when joining Capital One Shopping if you've not signed up yet. Please don't leave your referral links in the comments as they'll get caught in the spam filter. I won't be approving those as I don't have time to go through and verify each person's referral link seeing as non-$75 links will inevitably be left by some people. Update: According to Doctor of Credit, apparently once the referrer maxes out on their earnings (in this case four referrals due to the limit of $300 in earnings), subsequent people being referred don't end up earning their own bonuses. If you have a friend who's able to generate a $75 referral, it might be safer to use their link.
Capital One Shopping is a great shopping portal for several reasons. One is that they're now offering an increased referral bonus for both sides of up to $75 when the person you refer signs up, installs the browser extension and spends $10. The requirement to only have to spend $10 (rather than earn $10 cashback) makes it easy to do as they can presumably buy a $10 gift card from Giftcards.com or GiftCardMall to trigger that.
A second great feature of the portal/browser extension is that they frequently offer increased cashback rates on a targeted basis. Sometimes those are sent via email, but other times you'll find those by clicking on the 'Filters' button on the home page and then doing a search of the 'Merchant's list from the subsequent dropdown.
A third reason I've been loving Capital One Shopping in recent months is because it often tracks – and subsequently pays out on – transactions that don't work with other portals. That can be of particular interest for this site's focus as it can make certain deals profitable that might've previously been break even, such as when you take advantage of Amex Offers. There's never any guarantee that Capital One Shopping will track and pay out on those types of transactions – indeed, I've had numerous purchases track but not pay out due to being ineligible transactions – so I always count it as a bonus when it works. But there have been a number of bonuses along the way.