Update 11/24/23: This Black Friday gift card deal goes live today.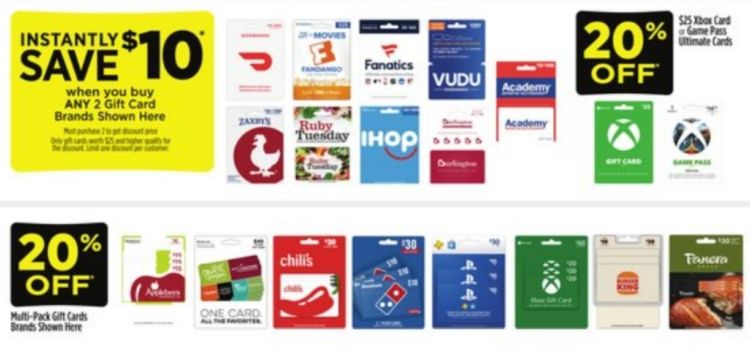 The Deal
Dollar General is running the following gift card deals on Black Friday:

Buy 2 gift cards for the following brands & get $10 off

DoorDash
Fandango
Fanatics
Vudu
Academy
Zaxby's
Ruby Tuesday
IHOP
Burlington

Save 20% on the following gift cards
Save 20% on the following multipack gift cards

3x $15 Applebee's
Darden multipack (unsure of denominations – possibly 3x $15 based on comment below)
3x $10 Chili's
3x $10 Domino's
3x $10 PlayStation Store
3x $20 Xbox
3x $10 Burger King
3x $10 Panera Bread
Key Terms
Offers valid November 24-25, 2023.
Buy 2 get $10 off deal – Only gift cards worth $25+ qualify for the discount; limit 1 discount per customer.
Tips & Ideas
There are some excellent deals here that'll be break even or slightly profitable for reselling. These deals do mean that the resale rates for these brands will tank for a while though.
Note that these offers don't go live until Black Friday, so I'll republish this post then.