Update 3/20/23: Promo code BLOOM now works to take 5% off virtual Visa gift cards too.
Update 3/20/23: Promo code SPRING5 has now been added to the mix.
Update 3/18/23: Promo code LUCKY has now been added to the mix.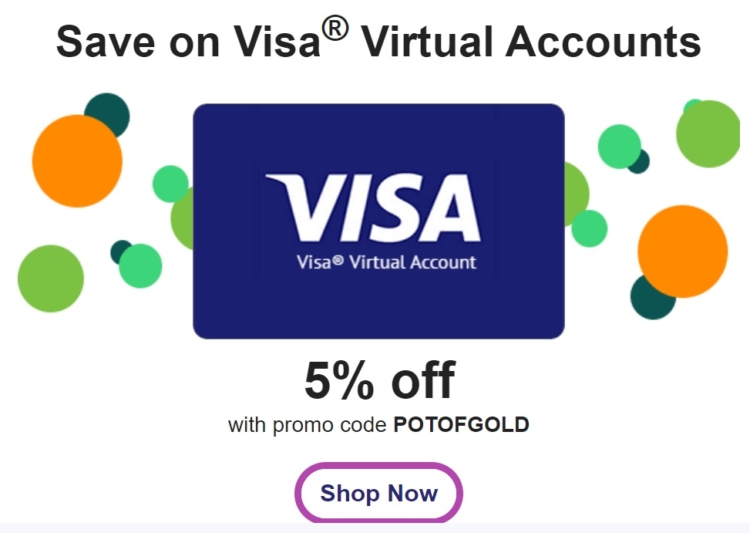 The Deal
Save 5% when buying virtual Visa gift cards from Giftcards.com & using the following promo codes:

BLOOM
SPRING5
LUCKY
POTOFGOLD
SHAMROCK

Direct link to offer (our affiliate link).
Key Terms
Promo code POTOFGOLD valid 03/16/22 – 04/06/22 for 5% off the purchase of up to $1500 worth of Visa Virtual Gift Accounts from Giftcards.com while supplies last maximum value $75.00.
Excludes Giftcards.com for Business orders.
Promo code POTOFGOLD is a one-time use code and can not be combined with other offers.
Tips & Ideas
When I tried using the SHAMROCK promo code earlier it wasn't working. However, Giftcards.com frequently adds promo codes to promotions such as this, so hopefully that code will start working soon, plus I'd expect to see other St Patrick's Day-related promo codes appearing too.
Click through from a shopping portal to earn cashback/rewards – here are the current rates. Check Capital One Shopping – both their website and app – and Capital One Offers as they sometimes offer higher rates on one or more of those.