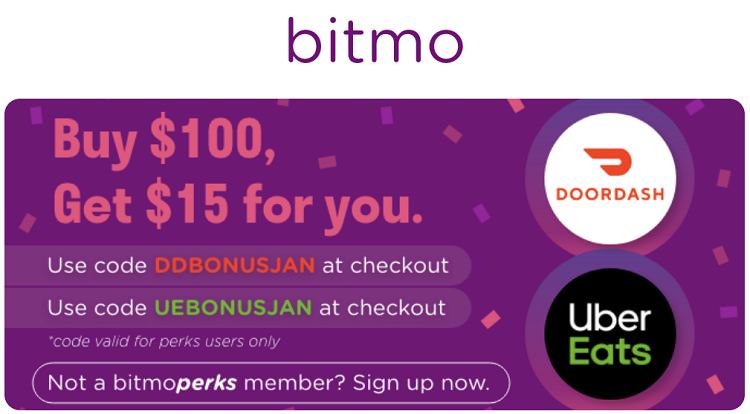 The Deal
Bitmo is offering the following deals:

Buy $100 DoorDash gift card & get $15 DoorDash gift card free when using promo code DDBONUSJAN.
Buy $100 Uber Eats gift card & get $15 Uber Eats gift card free when using promo code UEBONUSJAN.

Direct link to offer (My referral link. You'll receive a $5 Dunkin' Donuts gift card free; I don't think I'll receive anything as I've earned my one lifetime referral award).
Key Terms
Expiry date unknown.
Limit 1 per account (per brand?).
Tips & Ideas
This deal works out to be a 13.04% discount on $115 worth of DoorDash and Uber Eats gift cards. Although that's not as good as some of the discounts we saw over the holidays, gift card deals are few and far between right now and so it's a fairly good offer for personal use. If you have a Costco membership, you can get a 20% discount on Uber Eats gift cards in-store, so that's obviously a better option.
There are several things to note with this promotion. First, it's only open to BitmoPerks members; that's free to join, but you'll need to take the necessary steps to do that.
Second, some Bitmo promotions allow you to swap the gift card brand that you've bought for one which has higher value; that's sadly not the case with this latest promo.
Third, when entering the promo code, it'll show up as -$0 value rather than $15 or $115. Don't worry about that – so long as it shows the DDBONUSJAN or UEBONUSJAN promo code being applied, you're good to go. Having said that, it doesn't hurt to take a screenshot as evidence.
Fourth, you can pay with PayPal which means you could use the temporary personal Amex Platinum $30 PayPal credit.
Finally, the $15 bonus gift card should show up about one minute after completing the transaction, so don't worry if it doesn't immediately show in your wallet.