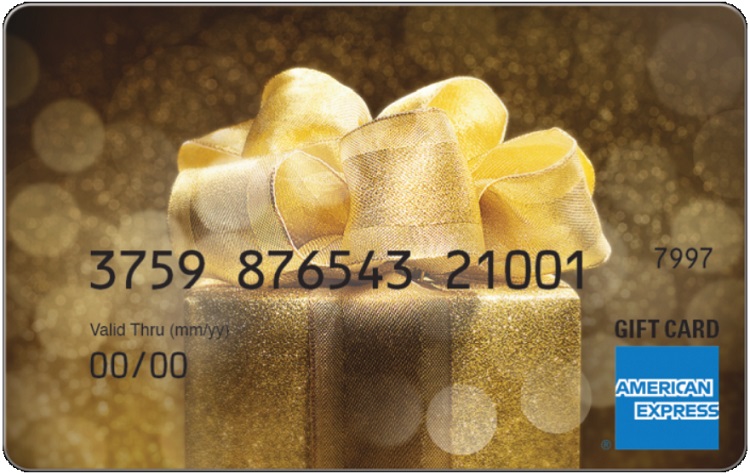 The Deal
There are two versions of an American Express gift card Amex Offer:

Spend $300 in one or more transactions at AmexGiftCard.com & get $20 back with an Amex Offer, or
Spend $1,000 in one or more transactions at AmexGiftCard.com & get $50 back with an Amex Offer.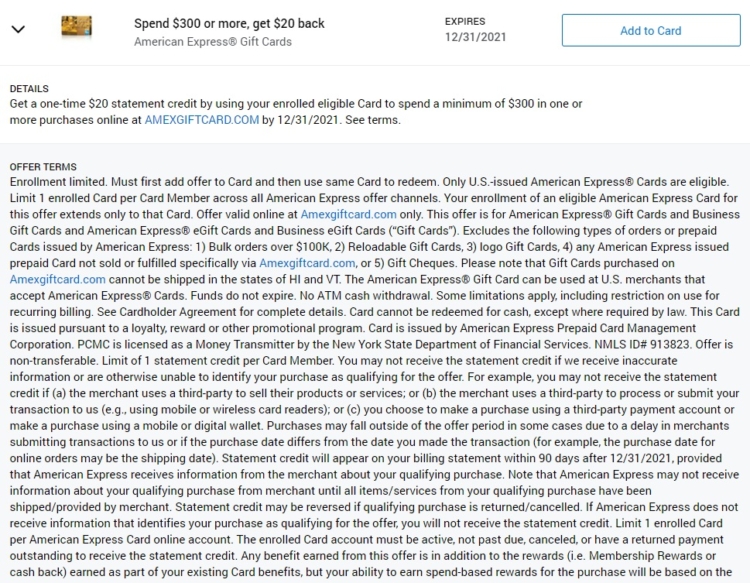 Key Terms
Expires December 31, 2021.
Offer valid online at Amexgiftcard.com only.
This offer is for American Express Gift Cards and Business Gift Cards and American Express eGift Cards and Business eGift Cards ("Gift Cards").
Excludes the following types of orders or prepaid Cards issued by American Express: 1) Bulk orders over $100K, 2) Reloadable Gift Cards, 3) logo Gift Cards, 4) any American Express issued prepaid Card not sold or fulfilled specifically via Amexgiftcard.com, or 5) Gift Cheques.
Please note that Gift Cards purchased on Amexgiftcard.com cannot be shipped in the states of HI and VT.
The American Express Gift Card can be used at U.S. merchants that accept American Express Cards.
Funds do not expire.
No ATM cash withdrawal.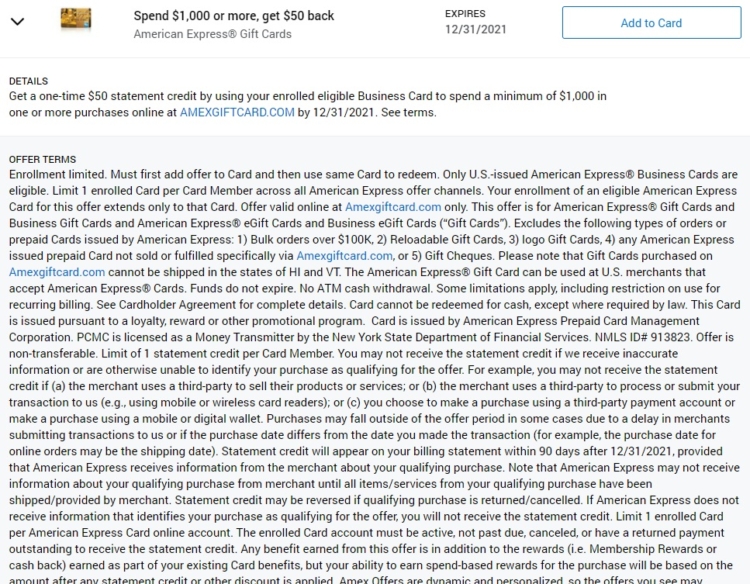 Tips & Ideas
The $300/$20 offer seems to be on personal cards, while the $1,000/$50 offer is on business cards. If you have a way of easily liquidating these cards, this is free money, although bear in mind that there will be purchase fees, as well as shipping fees if you buy physical cards.
Promo code BUYMORE works to remove the $5.95 purchase fee, so that means there are zero fees when buying an eGift card.