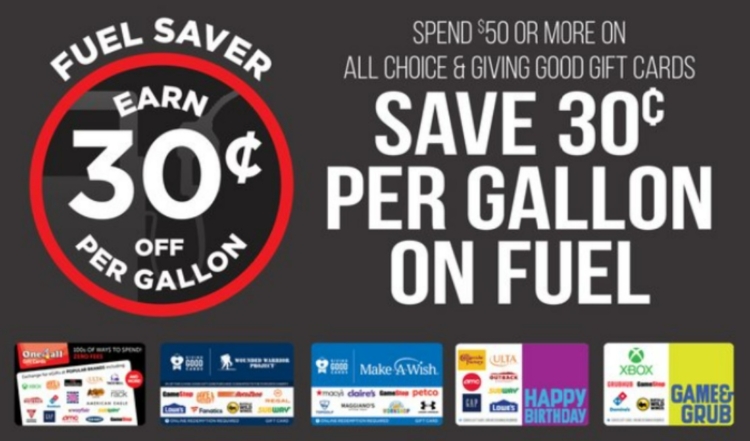 The Deal
Buy $50+ gift cards for the following brands at Hy-Vee & get 30c off per gallon of gas:

Choice
Giving Good
One4All
Key Terms
Offer valid May 24-June 7, 2023.
Tips & Ideas
Hy-Vee tends to run a deal on Happy, Choice and/or Giving Good gift cards every month. Their normal offer used to be for 20c off per gallon whereas the offer since fall 2020 has tended to give 30c off per gallon. That means that rather than saving up to 8% on gas, you can save up to 12% on gas which makes this deal more interesting for resellers.
Sometimes this offer is only valid on Happy gift cards, but this time around it's valid on Choice, Giving Good and One4All gift cards.
Past Deals
April 26-May 9, 2023 (Choice & Giving Good only)
March 22-April 4, 2023 (Choice & Giving Good only)
February 1-14, 2023 (Choice & Giving Good only)
December 7-20, 2022 (Choice & Giving Good only)
October 12-25, 2022 (Choice & Giving Good only)
August 3-16, 2022 (Choice & Giving Good only)
June 8-21, 2022 (Choice & Giving Good only)
April 27-May 10, 2022 (Choice only)
April 6-19, 2022 (Happy & Choice)
February 2-15, 2022 (Happy & Choice)
December 8-21, 2021 (Happy, Choice & Giving Good)
November 17-23, 2021 (Happy & Choice)
October 13-26, 2021 (Happy only)
August 4-17, 2021 (Happy only)
April 28 to May 11, 2021 (Happy only)
January 27-February 9, 2021 (Happy & Giving Good)
December 16-22, 2020 (Happy only)
November 11-17, 2020 (Happy only)
October 14-27, 2020 (Happy only)
September 9-22, 2020 (Happy only)