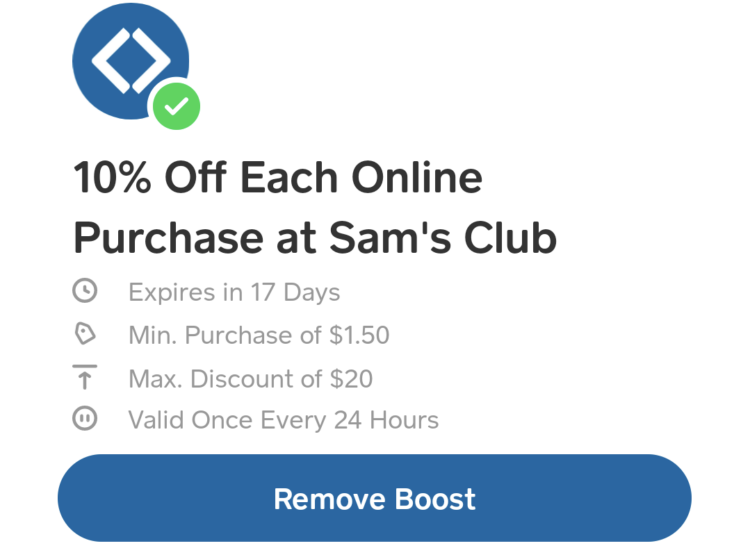 The Deal
Get a 10% instant discount at SamsClub.com when applying a Cash App Boost.
My referral link – referral code is DVHNXBG if needed.
Key Terms
Expires January 31, 2022.
Minimum purchase of $1.50.
Maximum discount of $20.
Use once every 24 hours.
Tips & Ideas
The Cash App usually has a Boost offering 5% off at Sam's Club online, although they did offer 10% leading up to Thanksgiving last year. That's now doubled until the end of January. That's a great deal as it's valid on any online Sam's Club purchases – including gift cards.
Sam's Club already offers discounts on third party gift cards, so this is an extra 10% off those already discounted prices. If you're not familiar with how Boosts work, in the app tap that card symbol and tap the section just below your card image to access the different Boost options. Scroll along until you get the Sam's Club one; tap on that, select 'Add Boost' and then tap 'Done' in the top right corner. That final step is easy to miss, so don't forget to do that as otherwise you won't get the Boost. When making your purchase, the Cash App will automatically take into account the 10% discount.
If you currently have the 5% Sam's Club Boost attached to your account, removing that should get the 10% version of the offer to show up.
Note that when this 10% offer was around in November 2021, using the 10% offer and subsequently changing the Boost to a different one meant that you didn't get the 10% offer back. However, if you use the 10% offer and don't change it, it should remain available for using again through its scheduled expiry date of January 31.
Also note that the limit of 'once every 24 hours' is a rolling 24 hours, not once per day as such. That means that if you place an order at 3:05pm one day, you'll want to wait until 3:06pm the following day before using the offer again.
Past Expiry Dates