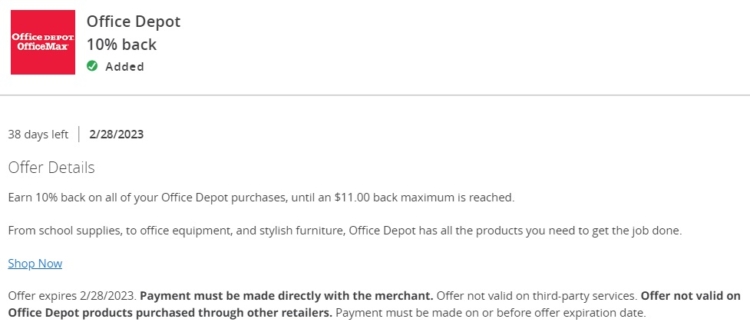 The Deal
Get 10% back at Office Depot/OfficeMax with a targeted Chase Offer.
Key Terms
Expires February 28, 2023.
Maximum $8 or $11 back.
Payment must be made directly with the merchant.
Offer not valid on third party delivery services.
Offer not valid on Office Depot products purchased through other retailers.
Tips & Ideas
This is a nice offer, although it is targeted. In the past there have been various different offers – some giving 5% back, others giving 10% back but with higher limits, etc., so check all your cards and keep an eye on the terms.
Unlike Amex Offers, you can add Chase Offers to multiple cards without any issue. If you get one of these offers on a Chase Ink Plus or Ink Cash card, that's even better seeing as you'll also earn 5x on the purchase.
Office Depot and OfficeMax frequently run profitable – or nearly profitable – deals on Visa and Mastercard gift cards, so it might be worth waiting until the next one comes along before using these offers unless you need to spend up to $80 there organically.
Also be sure to link any cards this offer is on to the Dosh app so that you also earn 2% cashback on top of this 10% back. Having said that, Dosh has been either closing accounts or preventing people from earning cashback on Office Depot purchases where they've identify past gift card-buying behavior, so there's no guarantee that'll work.
Past Office Depot/OfficeMax Chase Offer Expiry Dates
January 15, 2023
December 31, 2022
November 29, 2022
September 30, 2022
August 15, 2022
June 30, 2022
April 30, 2022 (10% back on up to $80 or $110 spend)
March 14, 2022 (10% back on up to $80 spend, 5% back on up to $130 spend)
January 31, 2022 (10% back on up to $80 spend)
December 16, 2021 (10% back on up to $80 spend, 5% back on up to $150 spend)
November 1, 2021 (10% back on up to $80 spend, 5% back on up to $90 spend)
June 24, 2020 (10% back on up to $80 spend)
June 20, 2020 (10% back on up to $80 spend)
June 14, 2020 (10% back on up to $80 spend)
June 7, 2020 (10% back on up to $80 spend)
May 25, 2020 (10% back on up to $80 spend)