Sorry, this deal has ended.
Update 9/27/22: This deal is back up and running again. h/t Justin.
Update 9/25/22: It seems like this offer might have ended. The signage in-store stated that this deal was due to run through October 1, but these gift cards are no longer being discounted. It's not clear if this gift card deal at Office Depot/OfficeMax was only meant to last a week or if it wasn't set up correctly on their system last week. There's a chance it might work again this week, so I'll update this post if there are reports of it working again. h/t Justin.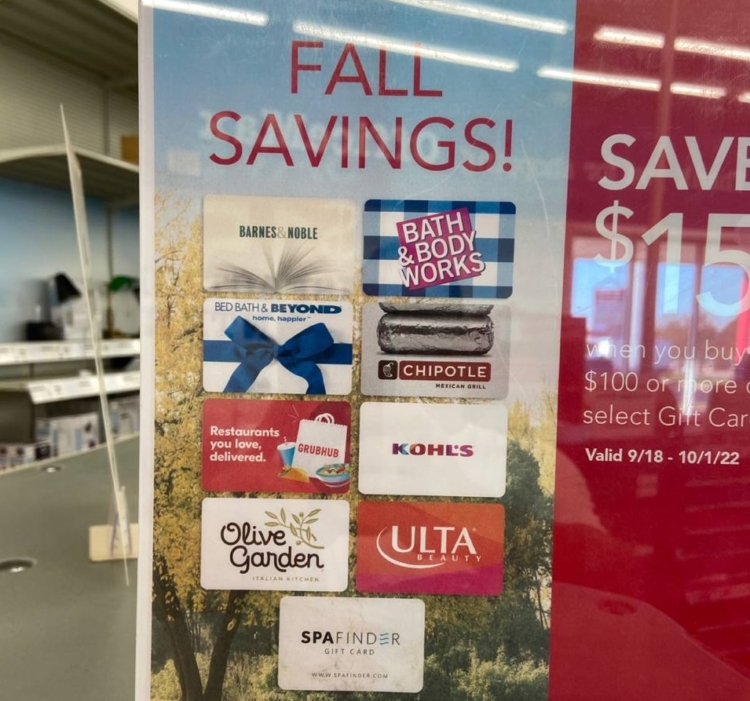 The Deal
Buy $100 gift cards for the following brands at Office Depot/OfficeMax & get $15 off:

Barnes & Noble
Bath & Body Works
Bed Bath & Beyond
Chipotle
Grubhub
Kohl's
Olive Garden
Ulta Beauty
Spafinder
Key Terms
Tips & Ideas
This is an excellent deal that'll be profitable or break even on some brands. You can make it even better by paying with a Chase Ink Cash or Ink Plus card for 5x earnings and/or with a card with the Office Depot/OfficeMax Chase Offer added to it.
Interestingly, the terms don't state a limit. I don't know if there's an unspecified limit of one per transaction though, so be sure to check the total at checkout if you're planning on buying more than one card per transaction.
Thanks to anonymous for the in-store image.