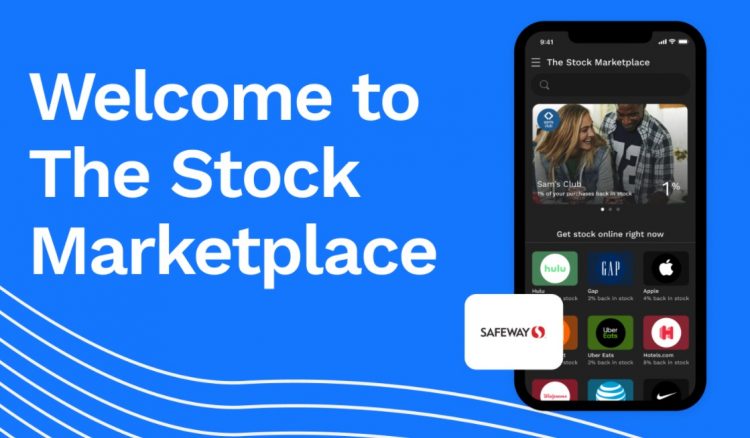 On October 29, 2020, the team at Bumped changed how their app worked fairly significantly. In the past, you selected one retailer/restaurant in a number of different categories at which you could earn stock when purchasing from them. You linked your debit and credit cards in the app, so Bumped tracked whenever you bought anything and automatically awarded stock. That meant you didn't have to do anything like upload receipts like you do with apps like Ibotta.
Now that they've changed the app's functionality, here's a guide/review of the good, the bad and the ugly changes which have been implemented in the new Bumped app. Warning: the ugliness largely outweighs the minorly good changes.
If you haven't joined Bumped yet, you can apply via my referral link. As far as I'm aware, I don't get anything for referring you, but I think you have to apply via a referral link which is why I've included it here. Having said that, it's probably not worth the effort unless you're simply curious about the app.
The Good
Wider Selection Of Retailers
In the past, you could choose one retailer, restaurant or service from each of 10 different categories. That meant you were limited as to the locations where you could earn stock with Bumped.
They've done away with those restrictions, so you now have a much wider selection of retailers you can choose from. That, in theory, increases the likelihood that you'll be able to earn more stock with Bumped. In reality though, that might not be the case – see The Bad and The Ugly sections for the reasons why.
Pretty Good Search Functionality
I needed to grab some pet food yesterday for our pup, so I took a trip to PetSmart. I wanted to see if Bumped offered stock for in-store purchases at PetSmart and indeed they did.
When starting to type in 'PetSmart', it searched as I typed and showed that PetSmart was an option for both online and in-store purchases. The search bar wasn't the quickest, but that might just be teething problems seeing as they've just relaunched the app and might have had a bunch of people checking out the new version. I was using it just a couple of hours after the update, so I won't ding them on the speed of the app right now.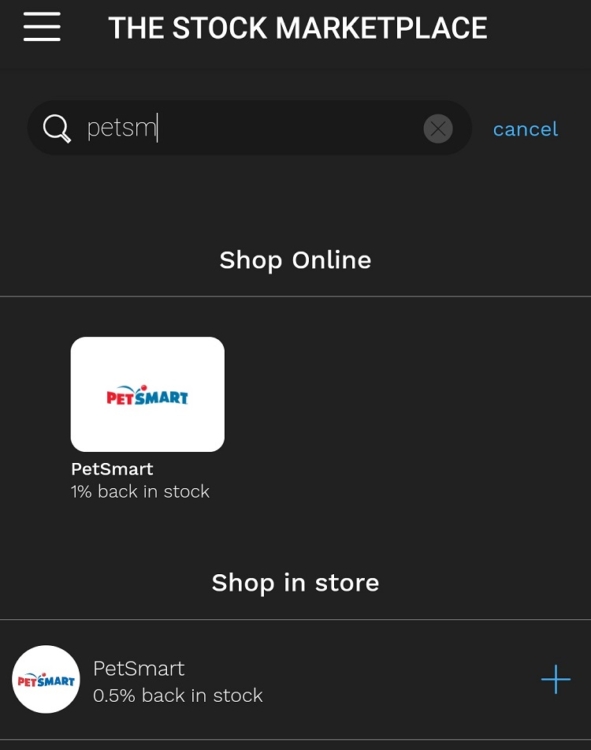 Tracks Instantly
After making a purchase in-store, I immediately received a notification on my phone confirming that Bumped knew I'd just bought something at PetSmart and that eligible purchases would appear in the app soon. That's reassuring, as it means you don't have to worry about whether or not Bumped knows about the transaction.
In-Store Offers Stack With Other Offers – Sometimes
Seeing as in-store offers are card-linked, they stack with some saving opportunities like Chase Offers (but not Amex Offers – see the Ugly section for why). I paid for the dog food with a Chase card as I had a PetSmart Chase Offer which offered 10% back on up to $70 of spend. The dog food cost $18, so I added a $50 PetSmart gift card to take the total close to the $70 limit.
Gift card purchases at PetSmart were listed as being excluded for earning stock, so it'll be interesting to see whether or not Bumped only awards stock on the $18 relating to the pet food or if I earn the 0.5% stock on the full $68 of spend. Update: I earned stock on the full $68 of spend.
It should also be possible to stack earnings from Bumped with other in-store programs like Dosh, Drop, etc. It likely won't work with Rakuten's in-store cash back offers though because Bumped now uses the Rakuten Card Linked Offer Network to track these in-store purchases.
Wider Range Of Stocks
Bumped used to offer a limited selection of stocks you could earn as they were often the stocks of the 10 retailers you'd picked as your loyalty selection, although VTI (Vanguard Total Stock Market Index Fund) was one of the default funds available for some retailers.
They've now greatly widened the selection of stocks you can choose from. VTI is a default selection, but you can add four other stocks, with any earnings split equally among them. There are numerous different categories of stock: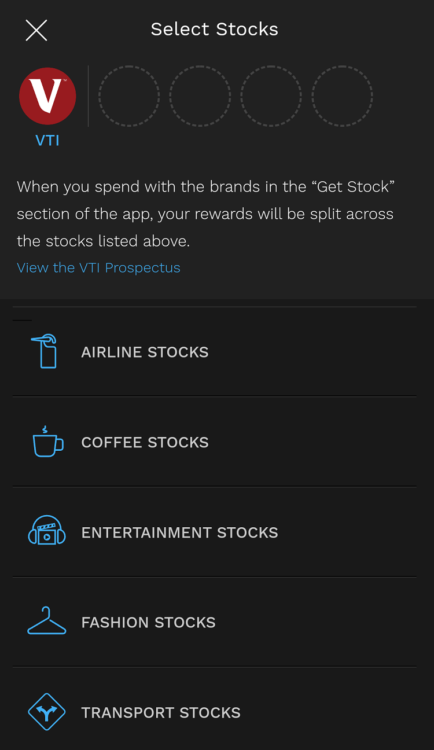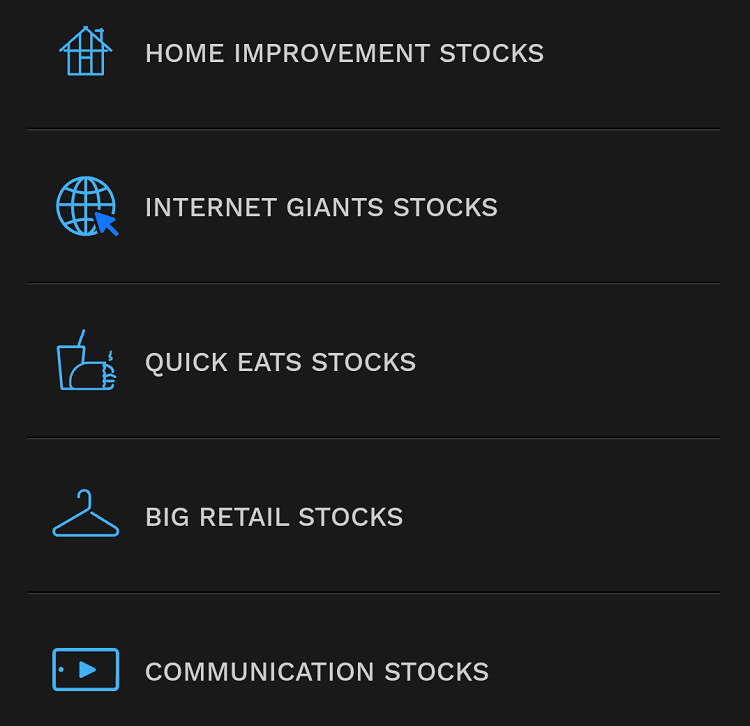 Within each category there are several different stocks you can choose from. Here are examples of the stocks you can choose in the 'Big Retail' and 'Internet Giants' categories.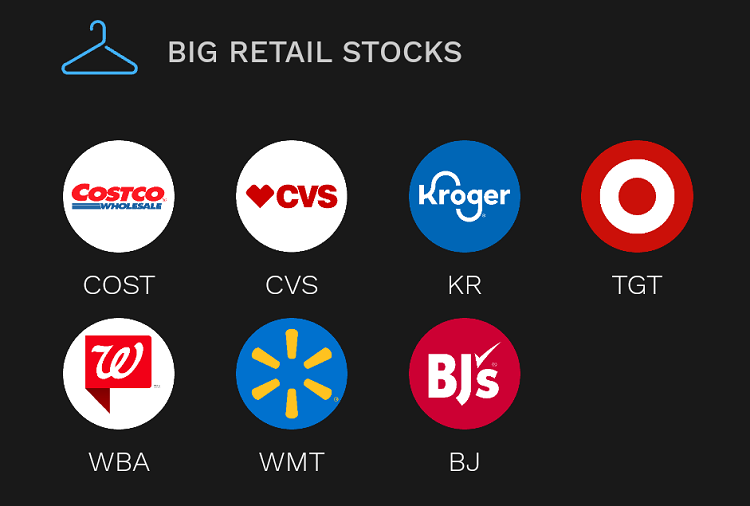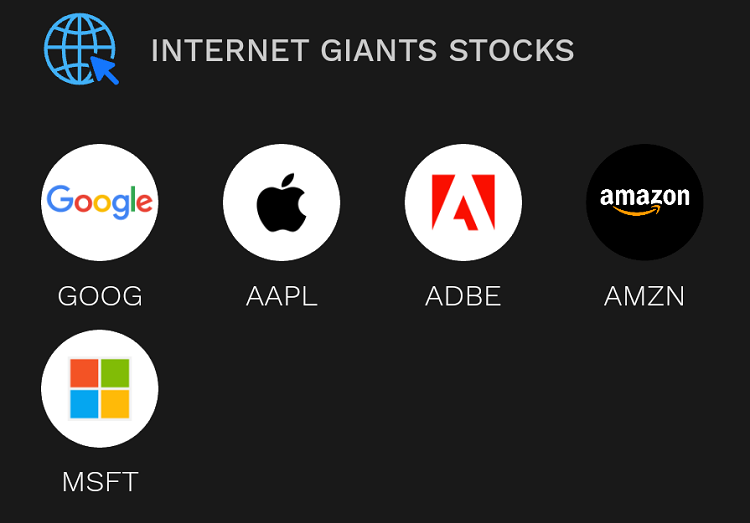 The Bad
Some Important Stores Missing
In the previous iteration of Bumped, you could earn 0.5% stock at Sam's Club in the Warehouse Club category (Sam's Club was the only option in that category), while there was a Grocery Store category where you could choose between Kroger family of stores (Kroger, Ralphs, Fred Meyer, Fry's, Smith's, etc.) or Albertsons family of stores (Albertsons, Safeway, Vons, Tom Thumb, Shaw's, Randalls, etc.).
Although you can choose to earn stock in Kroger for purchases made elsewhere, you'll no longer earn stock when actually shopping in-store at any of these retailers as they're no longer in-store shopping partners.
Those are notable stores missing from in-store earnings, but there are some large retailers missing from their online offering too. Home Depot, Lowe's and Walmart are all stores which don't currently appear in the app as options for earning stock when making purchases from them online. Walmart is a bit less of a surprise as they've pulled their affiliate program from a lot of shopping portals, although at the time of writing this guide Dosh has Walmart.com as an option.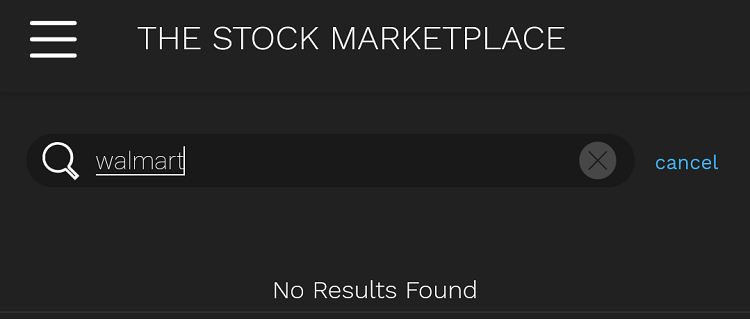 Restaurants are also now missing in the app. In the past you could earn stock in categories like 'Coffee Shop', 'Casual Dining' and 'Fast Food' (or something like that). This included McDonald's, Chipotle, Starbucks, etc., so you could pay with a card that earns more on dining purchases and earn 2-3% back in stock with Bumped.
The in-store 'Food & Dining' category is missing all those, with the only three options available being Omaha Steaks, Lindt Chocolate and David&Tea, so hardly adequate replacements.
Can't Sort List Of Retailers
The new version of Bumped has two separate lists of retailers – one list for online and one list for in-store. Both of these are just a long list of randomly ordered retailers. They're not sorted by earn rate or even alphabetical order.
For example, here's the initial list of online retailers displayed in the app…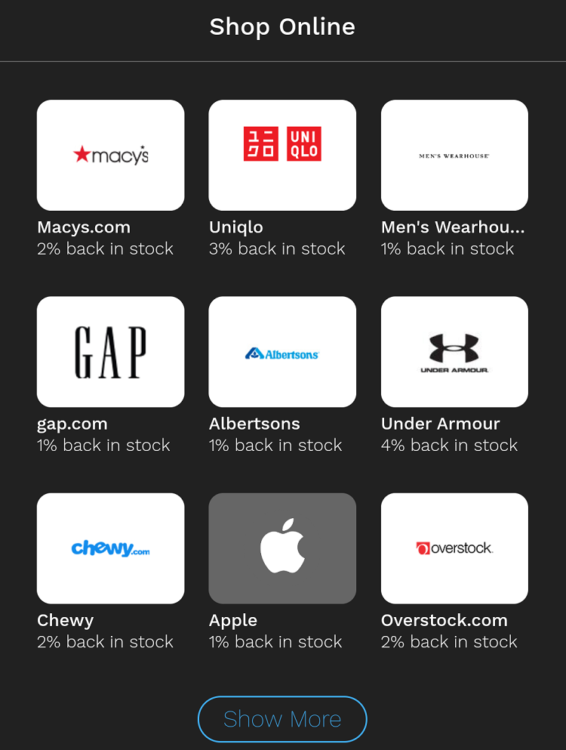 …and here's the initial list of in-store retailers.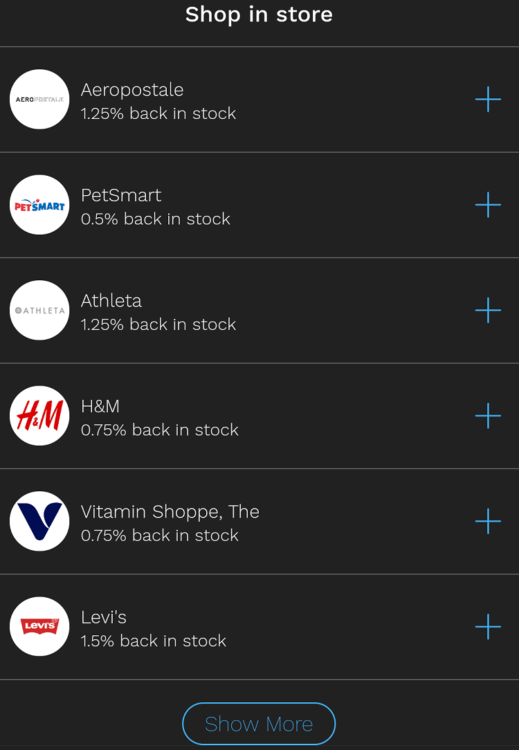 As you can see, the online list initially only displays 9 retailers, while the in-store list only includes 6. You have to click 'Show More' to see more retailers, but that takes a while to load. When clicking 'Show More' to see more in-store partners, it took 9 seconds to load the next batch of 12 stores. You'll therefore need a lot of patience and a thumb willing to endlessly tap and scroll if you want to see a full list of online or in-store partners. (Side note: The Tap & Scroll would be a great name for a pub with a bookstore inside.)
In many cases this might be a moot point seeing as you can use the search bar if you're looking for a specific retailer. However, it would be nice to be able to sort by earn rate to be able to easily identify if Bumped was offering a noticeably decent rate for one or more retailers.
Have To Relink Offer Once Used
One of the best features of Bumped in the past was that it was a true set-and-forget app. Once you'd linked your cards in the app, you could go your merry way and have everything track automatically.
Not any longer.
For online purchases, you have to tap through to the retailer from the app which is no more hassle than a regular shopping portal. For in-store purchases though, you have to manually link the offer to your cards before making a purchase, making it more likely that you'll miss out on stock because you forgot to link the offer beforehand.
Once you've linked an offer, it looks like it stays linked for 6.5 weeks. For example, I'm initially publishing this guide on October 30, 2020 and when linking offers to my cards just now, it said they'll stay linked through December 14, 2020.
Thankfully Bumped allows you to link more than one in-store offer to your cards at a time.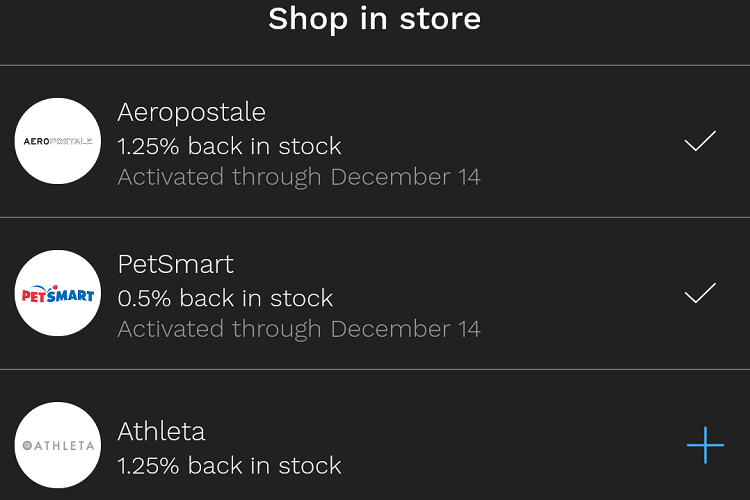 Although it's a pain that you have to relink an offer after using it, Bumped does try to help remind you to do that. When you get the notification on your phone that a purchase has tracked, it also mentions that you can 'Reactivate this offer now for future rewards.' It might therefore be worth ensuring that you have notifications turned on for the Bumped app so that you don't miss out on reminders such as these.
The Ugly
There are a few features (or lack of them) which have greatly tempered my enthusiasm about the new version of the Bumped app.
Have To Link Cards One-By-One
I mentioned earlier that Bumped used to be a great set-and-forget app. They made the 'set' part of set-and-forget super-easy because they used Plaid (a service now owned by Visa) to link your credit and debit cards. For example, you could log in to your Chase account once using Plaid and Bumped would then be able to track purchases on all of your Chase cards. Same with American Express, same with Wells Fargo, same with Citi, etc. If you have numerous cards with the same bank, only having to log in once to bulk-link all your cards was a huge timesaver.
That option has now disappeared. Bumped no longer uses Plaid, so you have to manually enter every card that you want to use – even if you previously had all your cards linked in the app. Existing users are therefore having to start from scratch.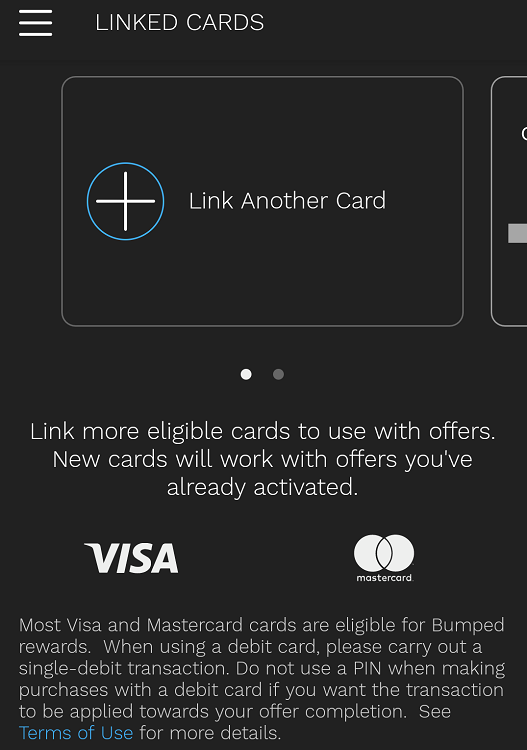 On the slightly positive side, you only have to enter the card number – there's no need to enter the expiry date, CVV or zip code associated with the card.

American Express, Discover & Apple Card Not Supported
The original version of Bumped let you link American Express and Discover cards. That was great because it meant you could stack Bumped earnings with bonused spend on Amex or Discover cards. For example, you could pay for groceries at Kroger or Albertsons with an Amex Gold card to earn 4x Membership Rewards while also picking up 0.5%stock with Bumped. You could also stack purchases with things like Amex Offers at times.
You might have noticed in one of the above images that only the Visa and Mastercard logos are pictured. That's because American Express and Discover are no longer supported in the app, nor is the Apple card. That greatly limits the appeal of Bumped, so hopefully they're able to do something to sort that out.
It's particularly surprising that American Express isn't supported because Bumped uses the Rakuten Card Linked Offer Network to track transactions. Rakuten's own in-store program allows you to add American Express cards in addition to Visa and Mastercard, so it's strange that Bumped doesn't at least have that option.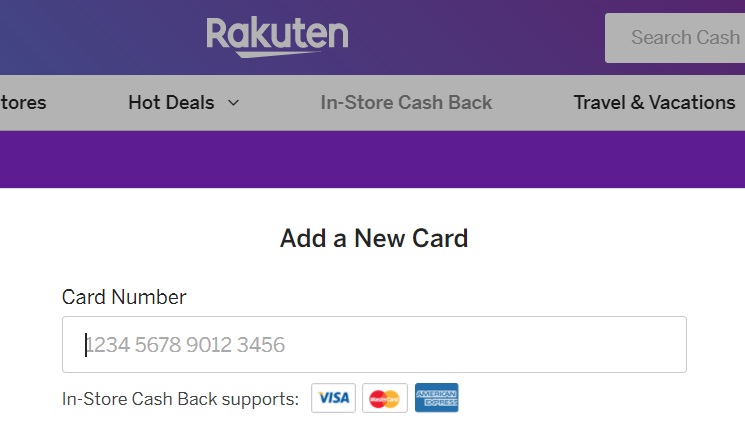 The Rates In The Bumped App Suuuuuuuuuuuuuuck
It seems like Bumped's latest changes are intended to position them mainly as an online shopping portal, but their positioning is worse than Mario Balotelli's when he played up-front for Liverpool.
The reason why is summed up in the heading above – their earning rates suck. Or as I more accurately put it earlier, they suuuuuuuuuuuuuuck.
There's simply nothing compelling about their online offering. They offer 2% for Macy's, but you can get 6-12% through other online shopping portals. 1% for Gap versus 6-8% from other portals. 1% for Albertsons and its affiliate grocery stores versus 3% from other sites and apps.
As mentioned earlier, Bumped doesn't allow you to sort by cashback rate, so I'm not sure of the highest rate they offer. After scrolling through their online retailers for quite some time, every single retailer was in the 1-3% range, with the exception of 1-800-Flowers which was 6%. Even that latter option isn't great considering you can get 10%+ year-round with other portals. Grubhub is 6% for your first order and 0% after that, but you can get 20% from TopCashback on your first order and 2% after that, so why bother with Bumped?
There's simply no good reason to ever use Bumped as a portal for online purchases, especially because it means you have to shop on your phone rather than being able to shop on a laptop or desktop computer.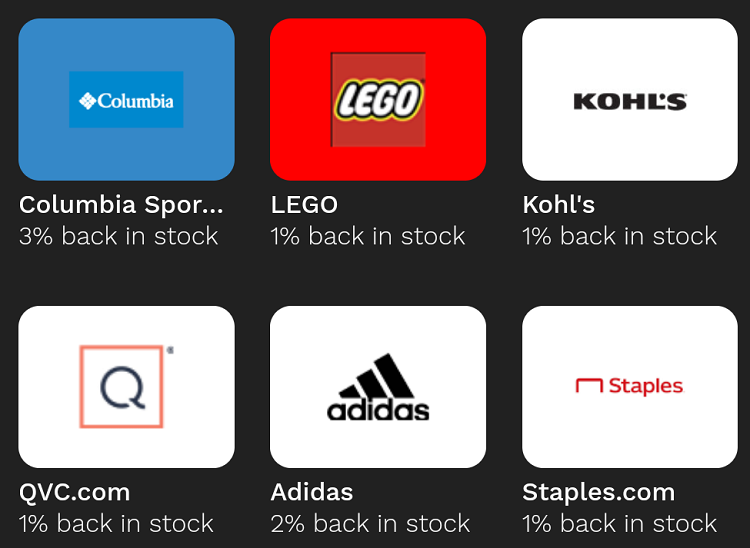 In-Store offers aren't any better either. I linked my card to Bumped earlier to test out my purchase at PetSmart just to see how it works. Seeing as Bumped uses Rakuten to track in-store purchases, I'd have been better off going with Rakuten. Bumped offered me 0.5% cashback for my PetSmart purchase, but I would've earned four times that much by linking my card to Rakuten instead as they were offering 2% cashback.
My Rakuten account is set up to earn Membership Rewards, so the 2x Membership Rewards are worth even more than 2% cashback, so at least six times what I earned with Bumped based on how I value Membership Rewards.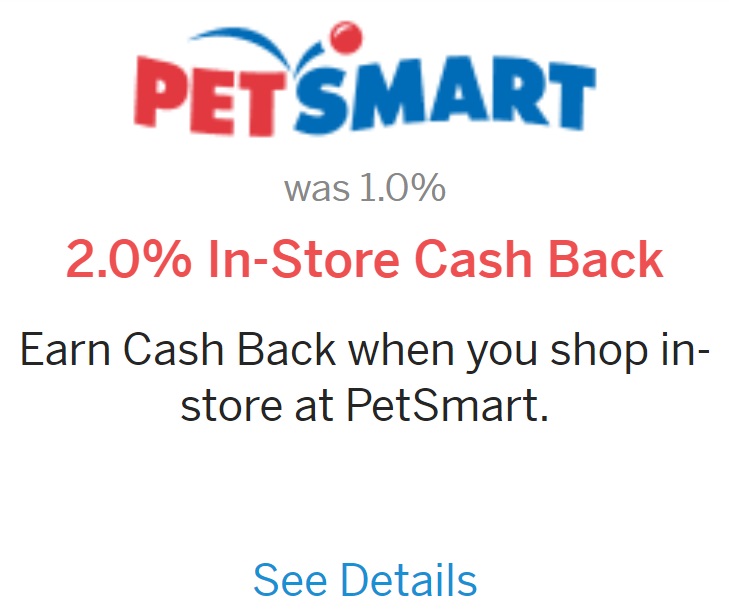 It seems to be a similar case with all in-store retailers. 1.25% at Gap with Bumped versus 6% with Rakuten. 2.25% at Nautica with Bumped versus 12% with Rakuten.
There are also many retailers available with Rakuten's in-store program which aren't available with Bumped's in-store offering.
Summary
When Bumped first announced that they were changing to become a mainly online shopping portal, I was pessimistic. I was mildly hopeful though that they'd do something surprising, like actually offering competitive rates.
That's sadly not the case. Their rates are poor for both online and in-store purchases, so in nearly every single case you'll do better going through another shopping portal or card-linked program.
Bumped no longer accepts American Express and Discover for in-store card-linked purchases, it takes forever to scroll through the list of retailers, you're unable to sort the retailers in any kind of order and you have to manually add any credit or debit card that you wish to use, adding yet another layer of hassle. All these do little to entice people to use the app.
Despite my initial pessimism, I really did want to like the new version of Bumped because their initial iteration was fairly innovative and included retailers like Kroger, Safeway, Sam's Club, McDonald's, Chipotle and more. I racked up about $45 in stock over the last year or two which isn't enough to retire on, but it was earned after spending about 10 minutes setting up the app and doing nothing after that. The fact that they've done away with everything that was actually good with the app and replaced it with a largely inferior product is incredibly disappointing.
At the end of the year I was going to make a list of gift card-related predictions for 2021. I'll give you an early one – Bumped will struggle to make it through 2021. They seem to have put a lot of work into its new iteration, but there's simply no reason for anyone to use it because people can get better deals elsewhere. The gimmicky nature of earning stock rather than cashback might retain some fans, but they'll be all the poorer for choosing Bumped over other sites and apps, regardless of how much their stock appreciates in value.
Sorry Bumped – you'll likely soon be bumped off my phone.