Sorry, this deal has ended.
Update 9/1/20: This has been extended through October 31, 2020. I guess I didn't need to run around yesterday buying a couple of gift cards to max this out after all! h/t Doctor of Credit
Update 8/15/20: If you can make a small purchase from a store, that'll work out even better on a miles per dollar basis. For example, there's a new HSN offer where you can earn 412 miles per dollar when spending $7.50 – see this post for more.
Update 8/12/20: PointsAlly has provided some helpful data points in the comments regarding minimum denominations for gift cards in-store, as well as potential issues if you only spend $1.
Update 8/10/20: My wife was near a Barnes & Noble this afternoon. Despite the image for the offer in the MPX app saying 'Online Only', the terms state it's valid in-store. She used my card in-store at Barnes & Noble and I received a notification from the MPX app just now that we'd used the offer. That does indeed mean you can buy gift cards inside these stores and restaurants to trigger the bonus miles which is a great deal if you have enough of them near you.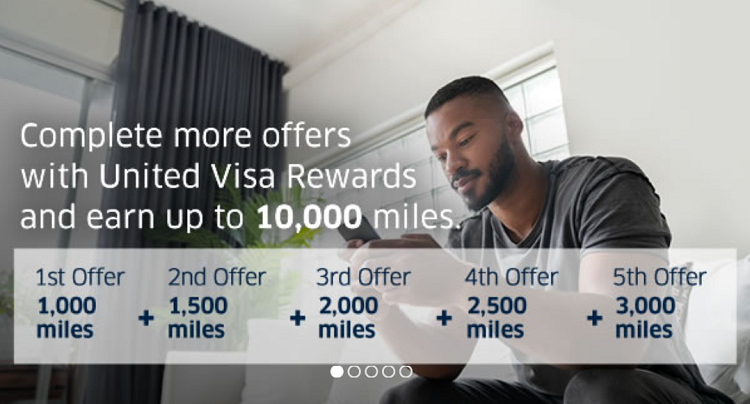 The Deal
United's MileagePlus X (MPX) app is offering up to 10,000 bonus miles when completing United Visa Rewards offers:

Complete 1st offer, get 1,000 miles
Complete 2nd offer, get 1,500 additional miles
Complete 3rd offer, get 2,000 additional miles
Complete 4th offer, get 2,500 additional miles
Complete 5th offer, get 3,000 additional miles
Key Terms
To be eligible for this bonus offer, you must be a United Chase Visa Cardmember during the promotion period August 1, 2020 to August 31, 2020 October 31, 2020.
Delays by the merchant, such as shipping, could extend the transaction date beyond the offer period.
You will qualify for and receive bonus miles if you are enrolled in the United Visa Rewards program via the MileagePlus X app and complete at least one offer.
To complete an offer, you must first view the offer in the MileagePlus X app and then make a purchase with your linked credit card per the terms of the offer.
Offers can be viewed in the MileagePlus X app after enrollment.
Purchases posted to your account with a transaction date between August 1, 2020 and August 31, 2020 are eligible for this offer.
Please allow 6–8 weeks after the United Visa Rewards holiday promotion ends on August 31, 2020 for bonus miles to post to your MileagePlus account.
Bonus Miles will post directly to your MileagePlus account and will not appear on your credit card statement
Tips & Ideas
When I first saw this offer, I thought earning up to 3,000 bonus miles was a fairly good offer, but then I realized that the bonus miles are cumulative. That means you can earn up to a total of 10,000 bonus MileagePlus which makes this promotion significantly better.
The best thing of all about this promotion is that you should be able to earn the full 10,000 miles on offer by buying five $10 gift cards. At the time of writing this post, some of the offers displayed in the United Visa Rewards section of the MPX app are as follows:
5 miles per dollar at Chili's
7 miles per dollar at LongHorn Steakhouse
10 miles per dollar at Barnes & Noble
17 miles per dollar at Sears
7 miles per dollar at Cheddar's Scratch Kitchen
7 miles per dollar at Yard House
7 miles per dollar at Bahama Breeze
I think only Barnes & Noble and Sears allow you to buy gift cards online as all the restaurants listed have their gift card purchases processed by a third party like CashStar.
When initially looking at the offers for the restaurants, that makes it seem like buying gift cards won't be an option because the images say 'Online only'.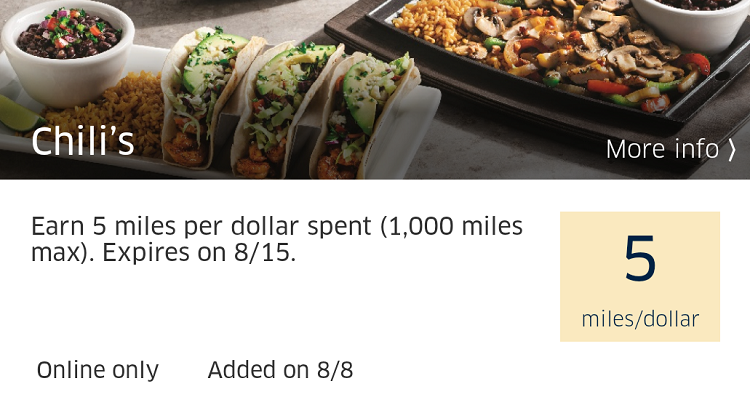 However, if you actually tap on the offer then the terms state that in-store purchases are eligible.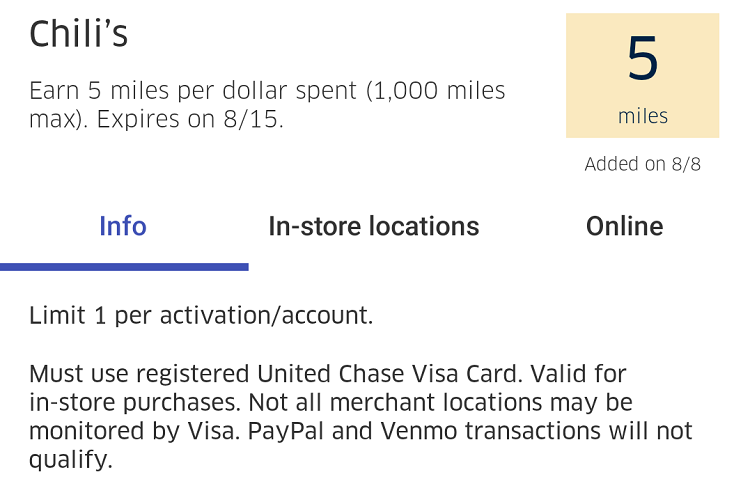 If it is indeed true that in-store purchases are eligible, you should be able to buy five $10 gift cards with a United credit card at any five of the participating restaurants/retailers listed above to earn the full 10,000 bonus MileagePlus miles. Depending on the restaurant/retailer, you might be able to buy $5 gift cards which would make the deal even sweeter.
Assuming the minimum load amount on the gift cards is $10 though, maxing out this promotion would be like buying United miles for 0.5cpp. It's even better than that though because you'd also have $50 worth of gift cards.
I'd love to test this out myself, but we're in semi-rural Florida for the rest of this month and don't have any of these stores or restaurants within 30 miles. My wife and her mom need to go shopping further afield later today though, so if they end up near any of these places then I'll have Shae buy a gift card in-restaurant to test this out and I'll report back if it tracks.