Update 11/24/22: EastsideBK has shared some really helpful tips in the comments below about taking advantage of these deals, so be sure to check those out.
Update 11/24/22: These gift card deals go live at Dollar General today.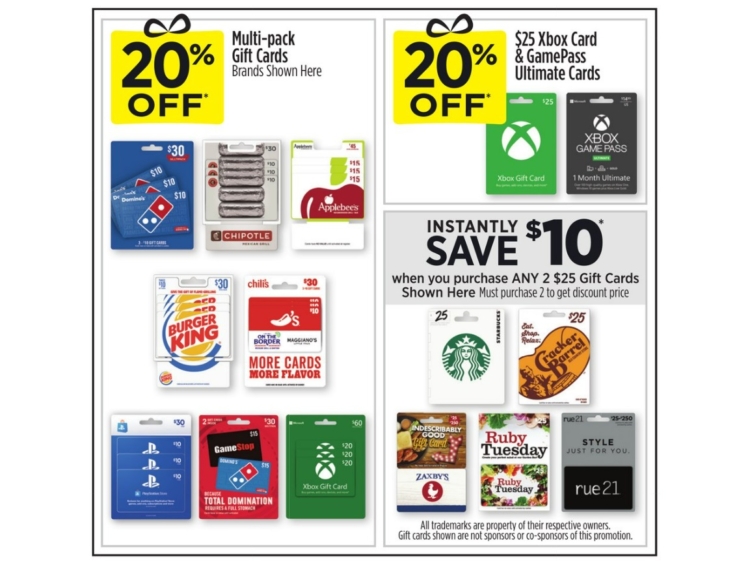 The Deal
Dollar General is offering the following gift card deals for Black Friday:

Save 20% on the following gift card multipacks:

3x $10 Domino's
3x $10 Chipotle
3x $15 Applebee's
3x $10 Burger King
3x $10 Brinker
3x $10 PlayStation Store
$15 GameStop + $15 Domino's
3x $20 Xbox

Save 20% on gift cards for the following brands

$25 Xbox
Xbox Game Pass (1 month)

Buy 2x $25 gift cards for the following brands & get $10 off:

Starbucks
Cracker Barrel
Zaxby's
Ruby Tuesday
Rue 21
Key Terms
Offers valid November 24-26, 2022.
Tips & Ideas
All of these deals give 20% off which is a great deal in many cases, but note that there are intricacies for each set of deals. For example, some of them are only valid on gift card multipacks for certain amounts, while others are only valid on certain denominations and/or require that you buy two gift cards.
These deals are available from November 24-26 which means they start on Thanksgiving Day. That day there's also a separate deal giving 15% off Lowe's gift cards. I'll republish this post on November 24 as a reminder once it's live.