Sorry, this deal has ended.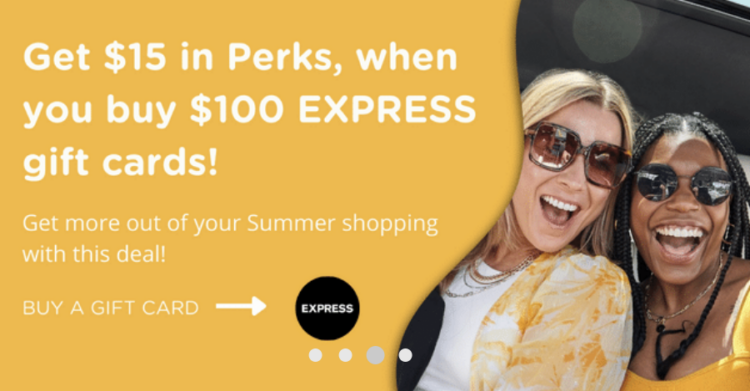 The Deal
Earn 150x Perk Points when buying Express gift cards in the Bitmo app.
Direct link to offer (My referral link. I'll earn 5,000 points (worth $5) and you'll get a $2 Dunkin' Donuts gift card)
Key Terms
Limit $250 in total gift card purchases per rolling 24 hours.
Tips & Ideas
To earn this increased rate, scroll through the images at the top of the app and tap on the one for Express. Alternatively, search for Express and scroll through the images further down the page on that card's listing for the image you see at the top of this post.
150x is worth 15% back towards future gift card purchases in the app. The offer says you'll get $15 in Perk Points when buying a $100 gift card, but it seems to work on smaller denominations too. There'll be a warning flash up that you have to buy a $100 denomination to get that rate, but if you take a look at the Perk Points it says you'll earn on smaller denominations, you'll see that it's calculating at the 150x rate. It'd be best to take a screenshot of that page anyway just in case they don't end up crediting the correct number of Perk Points.
Having said all that, it'd probably be worth holding off on buying these for now. Bitmo tends to lowball the Perk Points earning rate at the start of the month, so there's a good chance that we'll see a 200x (20%) rate in the next few days.
Past 150x Express Deals
June 1, 2022-???
May 15, 2022-???
September 25, 2021-???
September 10, 2021-???
August 11, 2021-???
July 30, 2021-???