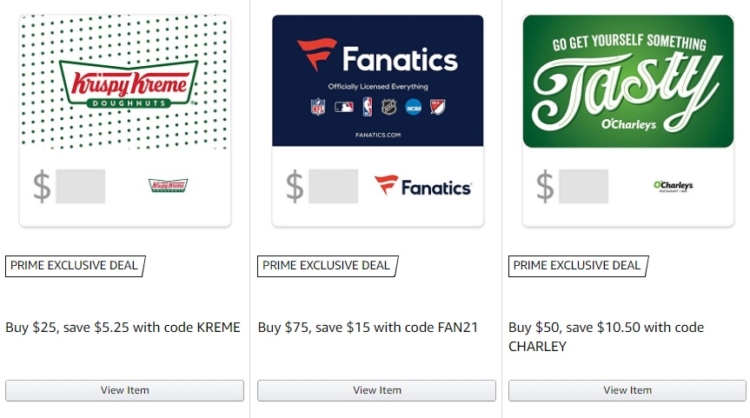 The Deal
Amazon is offering the following new gift card deals:

$25 Krispy Kreme for $19.75 with promo code KREME
$75 Fanatics for $60 with promo code FAN21
$50 O'Charley's for $39.50 with promo code CHARLEY
$50 Logan's Roadhouse for $39.50 with promo code LOGAN
$50 Spa & Wellness for $40 with promo code SPAWEEK
$50 JTV for $39.50 with promo code JTV21
$19.99 DAZN for $15 with promo code DAZN15

Direct link to offer (our affiliate link).
Key Terms
Tips & Ideas
It looks like these deals are only for members who have Prime membership – here's how to get a free trial.
These deals aren't amazing as they all frequently go on sale for 20% off, but it could be useful if you don't have a wholesale club membership as that's usually where they're available at high discounts.