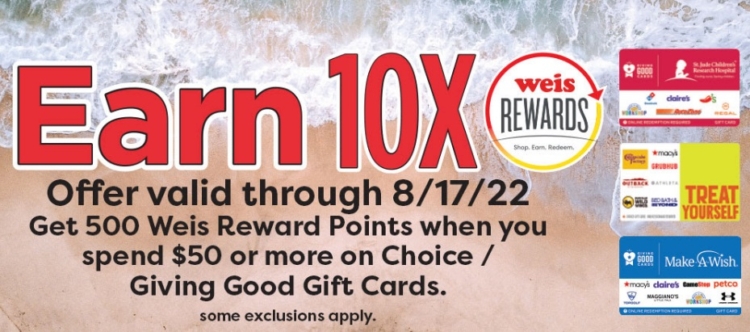 The Deal
Earn 10x Weis Rewards points when buying $50+ of the following gift cards at Weis Markets:
Key Terms
Tips & Ideas
10x points can be redeemed for up to 20% savings on gas based on how much you spent on the gift cards. That's a great deal for Choice and Giving Good gift cards if you can maximize those gas redemptions.
One thing I'm not 100% sure about is if you earn 10x points or 500 points though as the image for the offer says conflicting things. The headline rate is 10x, but then it says you'll earn 500 points when spending $50+. While I'm assuming you'll earn 10x no matter what you spend, that second section makes it seem like spending $500 might still only earn you 500 points. Before going large with this offer, it'd be worth testing with a purchase that's not too much more than $50 to ensure you earn 10x on the entire amount.