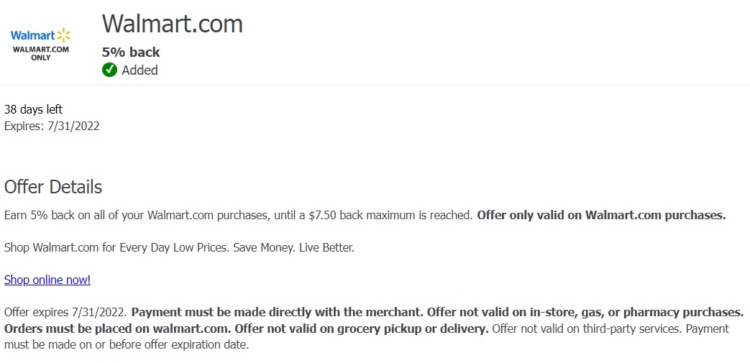 The Deal
Get 5% back on all your Walmart.com purchases with a targeted Chase Offer.
Key Terms
Expires July 31, 2022.
Maximum $7.50 back.
Offer only valid on Walmart.com purchases.
Payment must be made directly with the merchant.
Offer not valid on in-store, gas or pharmacy purchases.
Orders must be placed on Walmart.com.
Offer not valid on grocery pickup or delivery.
Offer not valid on third-party services.
Tips & Ideas
With a limit of $7.50 back, you'll max this out when spending $150. It should be possible to buy gift cards from Walmart online in order to lock in the discount from this offer.
If you don't have an immediate need to buy gift cards from Walmart, it might be worth holding off for a couple of weeks. Amazon Prime Day will be on July 12-13, so there's a good chance that Walmart will offer some kind of gift card deals at the same time to compete.
The great thing about Chase Offers is that you can take advantage of the offer on every card you have it on.