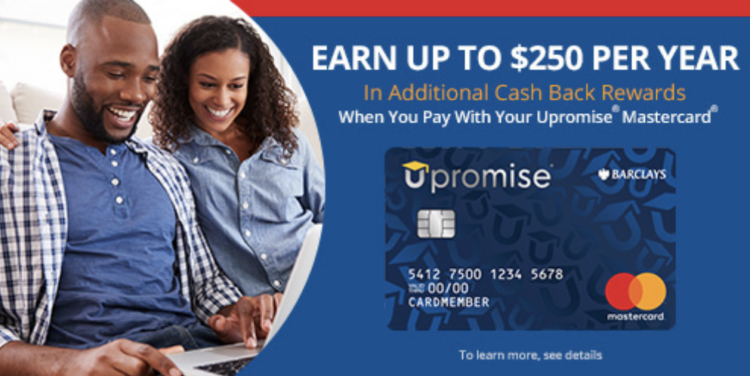 The Deal
Earn the following bonus cashback per calendar month when buying gift cards from MyGiftCardsPlus & paying with the Upromise Mastercard:

$10 cash back rewards bonus on purchases between $50.00 and $149.99
$20 cash back rewards bonus on purchases of $150+ ($25 cash back rewards bonus in the months of November and December)
Key Terms
You will qualify for the cash back rewards bonus based on total purchases made at MyGiftCardsPlus.com with your Upromise Mastercard in that month.
The qualifying purchases can be of multiple gift card purchases during the calendar month. The total amount spent on gift cards determines the monthly cash back rewards bonus.
Only one cash back rewards bonus can be earned each calendar month ($10, $20), or $25.
The cash back rewards bonus will be applied to the Upromise Account associated with your Upromise Mastercard. Your cash back rewards bonus will be reflected within 30 days following the end of each calendar month in which the total spend purchase of $50 or more occurs.
This benefit is in addition to the base cash back rate earned by your Upromise Mastercard.
Tips & Ideas
This is a great offer if you're a Upromise Mastercard credit cardholder. If you use the card to buy $150 worth of gift cards from MyGiftCardsPlus in a calendar month, you'll be getting 13.33% bonus cashback from January to October and 16.67% bonus cashback in November and December.
Note that this isn't going to be the best card to pay with beyond that first $150 of purchases each calendar month. It earns 1.59% cashback if linked to a 529 account and 1.25% cashback if it's not. That's not terrible, but there are far better options out there.
If you're not a Upromise Mastercard cardholder, they're currently offering an increased welcome offer of $200 (normally $100) when spending $500 in the first three months.