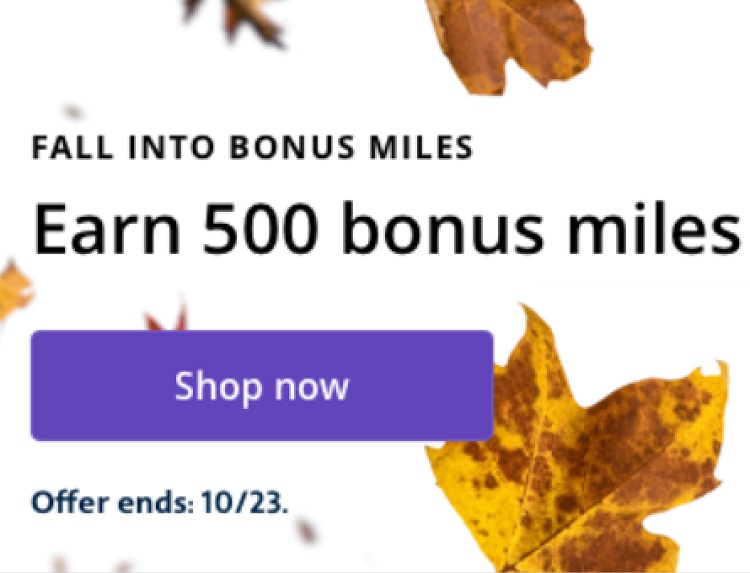 The Deal
Spend $100+ through the United shopping portal & get 500 bonus MileagePlus miles.
Key Terms
During the "Fall Bonus" offer, which runs from 10/16/20 through 10/23/20 at 11:59:59 pm ET (the "Bonus Period"), Member will earn a one-time bonus of 500 MileagePlus bonus award miles on qualifying purchases made through the MileagePlus Shopping mall or from purchases made through MileagePlus Shopping in-store offers.
This one-time bonus award will be based on Member's cumulative qualifying purchases made during the Bonus Period: Earn 500 miles for qualifying purchases of at least $100 or more.
"Qualifying purchases" do not include returns, cancellations, shipping and handling, taxes, gift card or other cash equivalent purchases, and certain products that are not eligible for bonus miles.
Please see the MileagePlus Shopping mall site for details on product eligibility and other restrictions.
Please allow up to 10 weeks after the Bonus Period for bonus award miles to post to your MileagePlus Shopping account.
Tips & Ideas
Although gift card purchases are always listed as being excluded from these airline shopping portal bonuses, buying gift cards from Raise, GiftCards.com or GiftCardMall should trigger the bonus.
It works out to be 5x bonus miles per dollar if spending exactly $100 which is pretty good if you're purchasing from a site which doesn't normally offer a good cashback/rewards rate. The American, Alaska and Delta portals are also offering a bonus right now, but you have to install their button in order to earn that bonus. Those offers require less spend than this United offer though.