Update 1/14/21: The Alaska Airlines Mileage Plan shopping portal is running the same deal with an expiry date of January 22.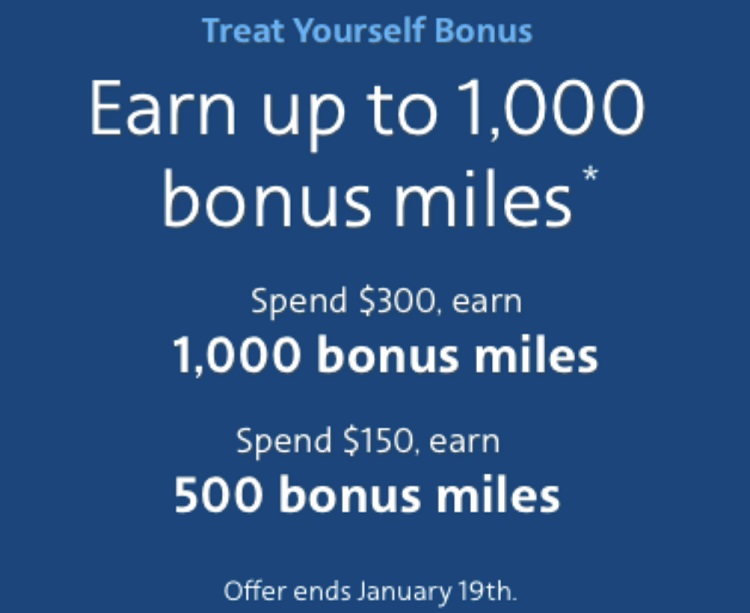 The Deal
Key Terms
During the "Treat Yourself Bonus" offer, which runs from 1/11/21 through 1/19/21 at 11:59:59 pm ET (the "Bonus Period"), Member will earn a one-time bonus of up to 1,000 MileagePlus bonus award miles on qualifying purchases made through the MileagePlus Shopping mall or from purchases made through MileagePlus Shopping in-store offers.
This one-time bonus award will be based on Member's cumulative qualifying purchases made during the Bonus Period using one of the following tiers: Tier 1 bonus: 500 miles for qualifying purchases of at least $150; or Tier 2 bonus: 1,000 miles for qualifying purchases of $300 or more.
"Qualifying purchases" do not include returns, cancellations, shipping and handling, taxes, gift card or other cash equivalent purchases, and certain products that are not eligible for bonus miles.
Please see the MileagePlus Shopping mall site for details on product eligibility and other restrictions.
Please allow up to 10 weeks after the Bonus Period for bonus award miles to post to your MileagePlus Shopping account.
The Tier 2 bonus provides the maximum number of miles that will be awarded.
Tips & Ideas
If you spend exactly $150 or $300, you're effectively earning 3.33x bonus miles per dollar. That's not a bad bonus at retailers which normally only offer 1%/1x on portals. As always, check Cashback Monitor to compare rates in case other portals offer better earning rates even after accounting for these bonuses.
Although gift card purchases are excluded, that doesn't seem to be the case when buying them from Raise or GiftCards.com seeing as they're eligible stores on the portal.