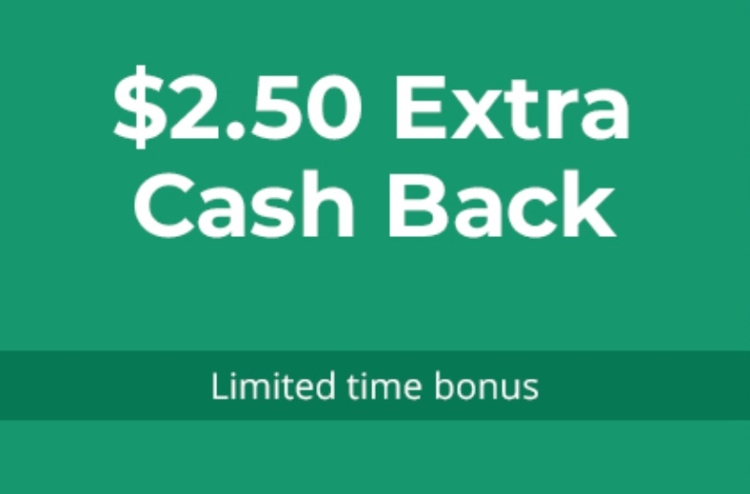 The Deal
Earn $2.50 bonus cashback when spending $10+ through TopCashback.
Key Terms
To be eligible for the $2.50 cash back promotion, you must be a member of TopCashback.com. You must activate the offer by clicking the link above to activate the promotion, prior to making an eligible transaction. Activations will be reported back to TopCashback.
You must make a purchase through TopCashback betweenMake a purchase between June 14, 2022 and June 17, 2022 and get a $2.50 bonus when you spend $10 or more. This bonus will be available for one transaction and you must activate using the link below to be eligible. .
Transactions with merchants paying 0% cashback and the following merchants are excluded from this promotion: 123 Copy DVD, 4 Wheel Parts, Angara, B2C Jewels, BigAl'sOnline.com, Black Halo, Booking.com, Calphalon.com, Canvas People, Crutchfield, Defender Pro, eSaleRugs.com, Flora2000, Fly Again, Gray Line New York, Halfpricedrapes.com, Hansen Surfboards Inc., Hotels.com, IHG, iStock, Journey, Link-Assistant, LogoMaker, Luxor Linens, McAfee, Metal Mulisha, Netflix, PRWeb, RentalCars.com, SHOEBACCA.com, The Popcorn Factory, TopCashBack – SignUp Bonus
Your purchase amount should be $10 or more (before sales tax is applied). This is the purchase amount reported back to TopCashback, some merchants may exclude tax & fees or shipping charges.
You can earn a maximum of $2.50 bonus cash back.
Tell-A-Friend and Sign Up bonuses will not count as one of your purchases towards the Cash Back Bonus.
The Cash Back bonus will not count towards your friend's Tell-a-Friend referral threshold.
To qualify for the Cash Back bonus the original transaction must be eligible for cash back. Please review merchant terms and conditions prior to purchase to avoid declined or untracked cash back.
Cash Back Bonus will be added on to your account as a separate cash back amount once the original transaction has tracked. Please allow 14 days for this to appear.
If you cancel your order, the Cash Back Bonus will be removed.
Only one TopCashback.com account per person is allowed.
Cash Back Bonus may not automatically apply to purchases where a Missing Cash Back Claim needs to be lodged to get your purchase to track correctly. If this is the case and your claim is successful you will need to raise a support ticket to be awarded the bonus.
TopCashback will not be held responsible for any technical failure or otherwise which prevents participation in this promotion.
Events may occur that render the promotion itself or the awarding of payable cash back impossible due to reasons beyond the control of TopCashback and accordingly TopCashback may at its absolute discretion vary or amend the promotion and the entrant agrees that no liability shall attach to TopCashback as a result.
Tips & Ideas
Even though a $2.50 bonus isn't huge, it's a nice little bonus if you'd be shopping through TopCashback anyway. Whenever this offer came along in the past, I placed a $10+ Grubhub order after clicking through to the app from TopCashback on my phone as it's basically a free – or profitable – meal when stacking it with the $10 dining credit on Amex Gold cards. Now it's just easier to buy a gift card in the Slide app.
On the gift card front, you can also earn the $2.50 bonus when buying gift cards from sites like Raise, GiftCards.com and GiftCardMall as well as the Slide app. Note that you have to spend at least $20 on Raise as that's the minimum spend requirement to earn cashback through the portal.
h/t EW
Past Deals
May 27-30, 2022
April 25-28, 2022
March 4-7, 2022
February 7-9, 2022
January 25-27, 2022
December 16-19, 2021
November 19, 2021
November 12, 2021
October 22, 2021
September 6, 2021
August 23-25, 2021
July 2-5, 2021
June 21-22, 2021
May 29-31, 2021
May 5-8, 2021
April 30-May 2, 2021
March 17, 2021
February 12-14, 2021
January 29-31, 2021
December 11-13, 2020
November 17-19, 2020
October 12-14, 2020
September 4-7, 2020
July 29-31, 2020