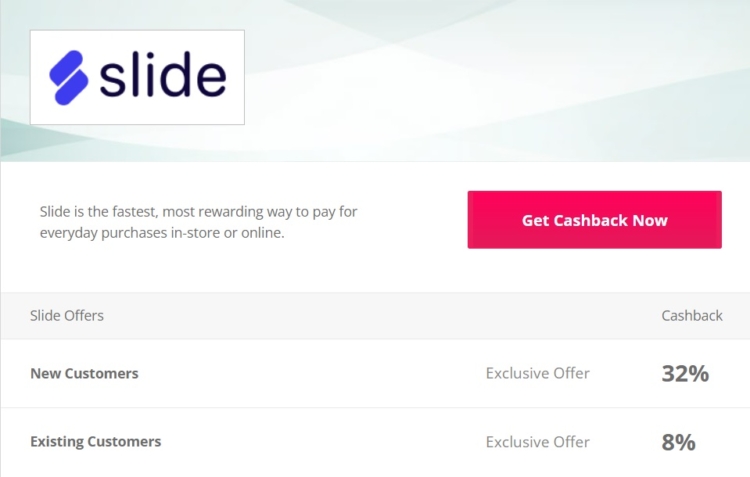 The Deal
TopCashback is offering the following cashback rates when buying gift cards in the Slide app:

New users – 32%
Existing users – 8%

My referral link. You'll get $5 off your first four orders and I'll get a $5 credit for each of your first four orders plus this $20 bonus.
Key Terms
Tips & Ideas
It's back! TopCashback offered this rate earlier this month for a day or so before dropping it slightly to 31% and 7% respectively before it dropped to its standard 15%/4% rate.
32% for new users is phenomenal and 8% for existing users isn't too shabby either. That's because it's on top of the cashback you'll earn from Slide. That's 4% when making a purchase and an extra 1-2% when preloading your account depending on the payment method you use to do that.
That means new users can earn up to 38% cashback on their first purchase (which could be a $2,000 Lowe's gift card). It also means existing users can earn up to 14% cashback which is still a very high rate considering the brands sold by Slide.
That's not to mention the fact that Slide is offering $20 off when buying a $100+ gift card today as its Cyber Monday promotion. That's not live just yet, so I'll post about that once it's available.
If you'll be making multiple purchases in the Slide app to take advantage of the 8% rate, be sure to completely close the app between purchases and give it at least a minute before tapping through from TopCashback again. That'll give you the best chance of it tracking automatically so that you don't have to make a claim.
If you're a new Slide user, here's how to best take advantage of this offer:
Use the referral link above – that way you'll get $5 off your first four orders (as will I).
Preload your account with however much you'll want to spend on your first order(s). Note that you'll only earn 32% once, so you'll want to load enough to make the most of that – don't waste the opportunity on a $10 gift card.
Preloading with a credit card earns you 1% cashback; preloading with a debit card (including PayPal Key) earns 2% cashback.
Close the app completely.
Go to TopCashback (both the website and app are fine for this) and tap through to Slide.
Purchase your first gift card. You should get $5 off from your first purchase and, depending on if the deal has gone live yet, $20 off $100+ for Cyber Monday as well. This will earn you 4% cashback in Slide and 32% cashback from TopCashback.
When trying to make such a large load and/or purchase for your first transaction, Slide might lock your account. Their phone reps are very good about getting your account unlocked, so it's not any hassle when you get through to them. They might ask if you want to make a purchase while they stay on the line; if you do that, make sure you've closed the app first and clicked back through from TopCashback.
It can take from several hours up to a day or two for purchases to track with TopCashback, so don't be too concerned if it doesn't track immediately. If it still hasn't tracked in a week's time, raise a claim with TopCashback – they've been very good with processing claims for Slide when things haven't tracked correctly.