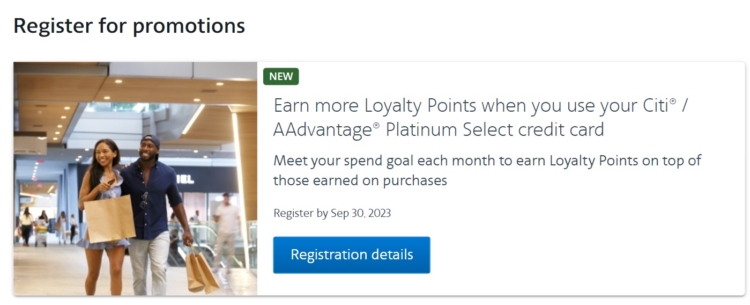 The Deal
American Airlines is targeting some cardholders with the following offer:

Spend $5,000 in October & earn 4,500 bonus Loyalty Points
Spend $5,000 in November & earn 4,500 bonus Loyalty Points
Spend $5,000 both months & earn an additional 4,500 bonus Loyalty Points
Key Terms
This exclusive offer is only for members who receive an email directly from American Airlines
You must register for this promotion between September 13, 2023 and September 30, 2023
Once registered, the promotion will start on October 1, 2023 and end on November 30, 2023
You will earn 4,500 Loyalty Points each month you spend $5,000, on purchases with your Citi / AAdvantage credit card between October 1, 2023 and November 30, 2023
You will earn an additional 4,500 Loyalty Points if you spend $5,000, on purchases with your card every month of this promotion between October 1, 2023 through November 30, 2023
Purchases must post to your credit card account by the end of each month to count towards that month's spend requirement. Many merchants will wait for a purchase to ship before they post the purchase to your account
Allow 8-10 weeks after the end of this promotion for the reward(s) to post to your AAdvantage® account
Eligible purchases are defined as purchases that earn base miles, including those made by authorized users on your account, less credits, returns and adjustments, made with your Citi / AAdvantage credit card
Eligible purchases exclude balance transfers, cash advances, checks that access your credit card account, items and services returned for credit, and unauthorized charges.
Eligible purchases also exclude interest and account fees, traveler's checks, purchases of foreign currency, money orders, wire transfers (and similar cash-like transactions), lottery tickets, and gaming chips (and similar betting transactions).
To qualify for this offer, your credit card account must be open and in good standing from registration date to November 30, 2023. If your credit card account is closed for any reason, you may no longer be eligible for this offer.
Tips & Ideas
It's a shame that this offer doesn't give an equivalent number of redeemable AAdvantage miles too, but it could be a useful offer if you're trying to earn Loyalty Points towards American Airlines status.
You'll earn 4,500 bonus Loyalty Points for one or the other months if you only complete the spending requirements for one of those months, but if you complete $5,000 of spend in both October and November you'll earn 4,500 bonus Loyalty Points for each month as well as an additional 4,500 for a total of 13,500.
American Airlines introduced even further changes to their already revamped AAdvantage program somewhat recently where they added milestone rewards. Some of these milestones earn you bonuses on the Loyalty Points that you earn through certain methods. For example, I recently reached the 60,000 Loyalty Points milestone which gives a 20% bonus on Loyalty Points earnings via SimplyMiles, the American Airlines shopping portal and a few other methods. Unfortunately credit card spend isn't one of those, so be aware of that in case you thought you'd be able to earn 13,500 Loyalty Points + whatever bonus you're currently at (if any).