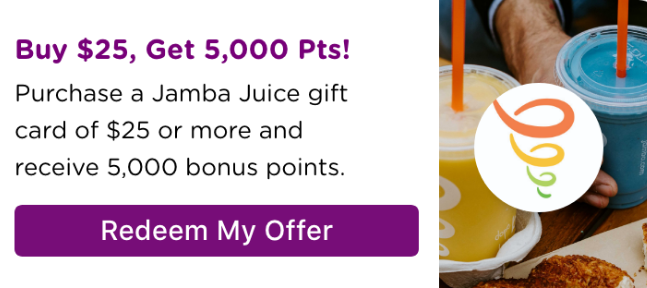 The Deal
Buy $25 Jamba Juice gift card in the Bitmo app & get 5,000 bonus Perk Points.
Direct link to offer (My referral link. I'll earn 20,000 points (worth $20) and you'll get some kind of reward, but Bitmo doesn't state what that is.)
Key Terms
Expiry date unknown.
Limit 1.
Tips & Ideas
This is a targeted offer. To see if you have it, tap the 'Activity' button at the bottom of the app and scroll down to see if there's a banner for the offer like the one at the top of this post. If you tap it, it'll prepopulate a unique promo code.
Bitmo is currently offering 35x Perk Points as standard for Jamba Juice gift cards, so buying a $25 card will earn you a total of 5,875 Perk Points which are worth $5.88 towards a future gift card purchase.