Update 9/17/23: This offer has been extended by a week but with a different landing page. The only difference in terms of lineup of brands is that Choice Yay You! gift cards aren't included whereas they were last week.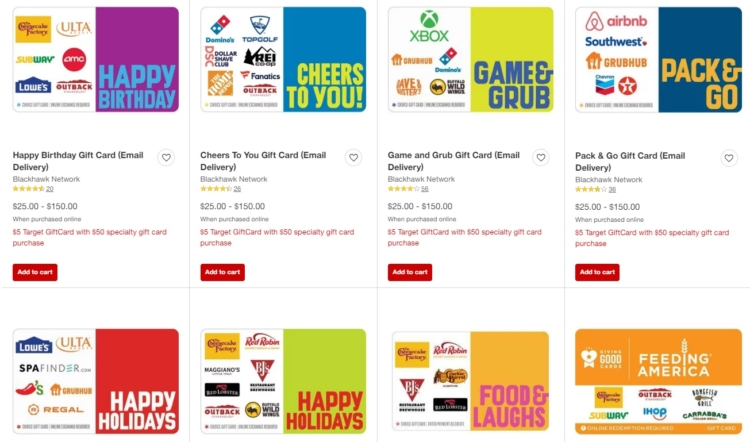 The Deal
Buy $50 gift cards for the following brands at Target & get $5 Target gift cards free:

Choice

Happy Birthday
Cheers To You!
Game & Grub
Pack & Go
Happy Holidays (red)
Happy Holidays (dining)
Food & Laughs
Yay You!
Thank You

Giving Good

Feeding America
American Cancer Society
Wounded Warrior Project
Key Terms
Expires September 16 23, 2023.
Limit 1 per brand (theoretically).
Tips & Ideas
Target runs this type of deal every so often and it can be of interest for resellers seeing as Choice Cheers To You! gift cards can be redeemed for Home Depot gift cards.
Be aware that the $50 can be made up of two $25 gift cards if you want.
Keep an eye out in your Target Circle account for an offer giving you a reward when completing certain spend requirements. For example, I currently have one giving a $30 reward when spending $100+ in three separate transactions. These offers get triggered by gift card purchases, so that can make these types of deal even more worthwhile. However, Target will only add one $5 Target gift card to your cart, so this doesn't work out so well online if wanting to buy two $50 cards; I'm not sure if it works in-store or not.
If you do this deal online, be aware that Target will lock the Target gift cards to your account. That means the cards can't be resold, so only do this deal online if you can make use of the Target gift cards for personal use.
If buying in-store, you can no longer reload the same Target gift card to have a higher balance, so you'll end up with a bunch of lower denomination Target gift cards if you scale the deal.
Paying with a Target RedCard will get you an additional 5% off, but it'll do it as 5% off $45 as they do weird math and deduct the $5 Target gift card value from the $50 Choice or Giving Good gift card.