Update: As per Stephen's comment below, there's also a 15% version of this offer.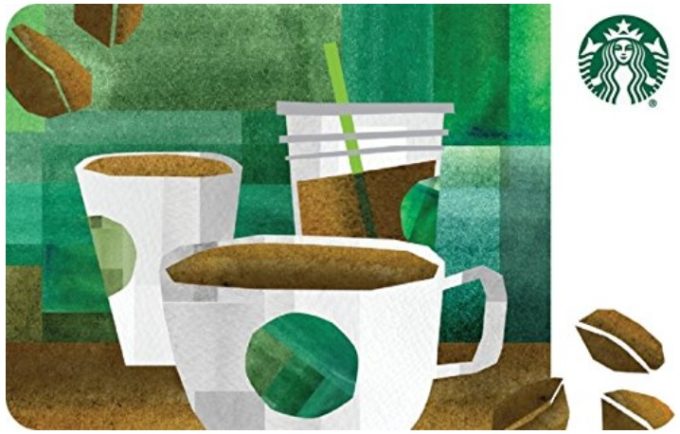 The Deal
Get 10% back with a limit of $5 back with a Starbucks Amex Offer, or
Get 15% back with a limit of $5 back with a Starbucks Amex Offer
Key Terms
Expires July 10, 2020.
Valid in-store at stand-alone Starbucks locations and for app or online reloads at Starbucks.com.
Valid at participating locations in US and US territories only.
Excludes Starbucks within the following locations: i) retail stores, department stores, supermarkets, malls, outlet malls, ii) hotels, resorts, casinos, convention centers, cruise ships, theme parks, iii) airport terminals, train/bus stations, highway rest-stops, iv) hospitals, military bases, office buildings, and university/college campuses.
Excludes delivery orders, Teavana Brand, Princi Bakery, e-gift card purchases, and all gift cards purchased online.
Offer is non-transferable.
Limit of $5 in total statement credits per Card Member.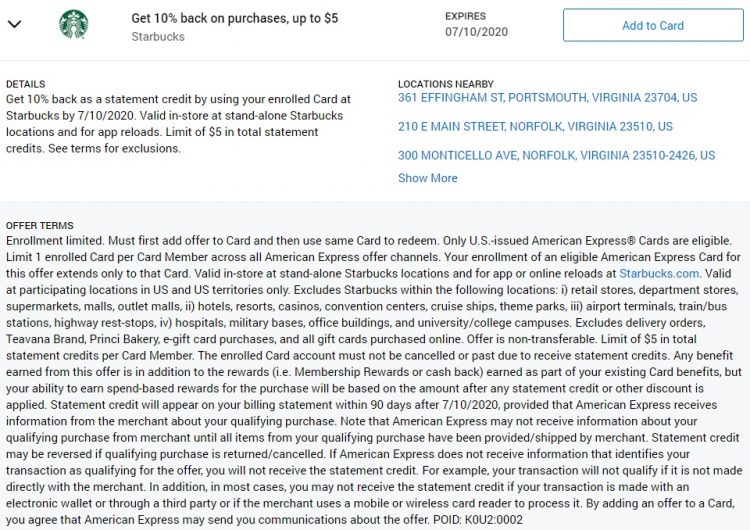 Tips & Ideas
eGift cards are excluded, but as mentioned in the terms above reloads in the app work. Having said that, I feel like Amex Offers have been triggered by gift card purchases in the app in the past, but I can't guarantee that.
If you're wanting to lock in the 10% cashback in the form of a gift card, buying a Starbucks gift card in-store will work. I'm assuming it's also possible to buy them through the drive-thru.