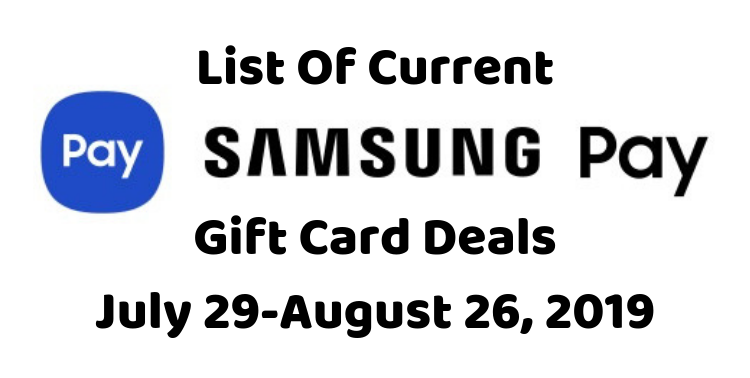 The Deal
Samsung Pay is offering the following gift card deals:

Adidas – $50 gift card for $42.50 (15% discount)
Aeropostale – $50 gift card for $40 (20% discount)
Bed Bath & Beyond – $50 gift card for $46 (8% discount)
BJ's Restaurant – $25 gift card for $20 (20% discount)
Bow Tie Cinemas – $25 gift card for $20 (20% discount)
Chili's – $50 gift card for $40 (20% discount)
Chipotle – $25 gift card for $21.25 (15% discount)
Domino's – $50 gift card for $42.50 (15% discount)
DSW – $50 gift card for $42.50 (15% discount)
Famous Footwear – $50 gift card for $40 (20% discount)
Fanatics – $50 gift card for $40 (20% discount)
Forever 21 – $50 gift card for $46.50 (7% discount)
Gap Options – $50 gift card for $42.50 (15% discount)
Google Play – $50 gift card for $47 (6% discount)
Groupon – $50 gift cards for $45 (10% discount)
Kohl's – $50 gift card for $45 (10% discount)
Logan's Roadhouse – $25 gift card for $20 (20% discount)
Peet's Coffee – $25 gift card for $23 (8% discount)
Regal Cinemas – $25 gift card for $20 (20% discount)
Shoney's – $25 gift card for $20 (20% discount)
Sony PlayStation Store – $50 gift card for $46.50 (7% discount)
Staples – $50 gift card for $45 (10% discount)
Steak n' Shake – $50 gift card for $40 (20% discount)
TGI Fridays – $50 gift card for $40 (20% discount)
The Children's Place – $50 gift card for $40 (20% discount)
The Coffee Bean & Tea Leaf – $50 gift card for $40 (20% discount)
Uber – $50 gift card for $45 (10% discount)
Ulta Beauty – $25 gift card for $23.50 (6% discount)
Key Terms
Offer valid July 29 to August 26, 2019.
Limit 2 gift cards per day or no more than $150 in total gift card value per day, whichever comes first.
Limit $500 worth of gift card purchases during the promotion period.
Tips & Ideas
There are some good discounts here for personal use, as well as a few possibilities for reselling if you have access to good rates.
Update 8/17/19: Updated as some brands are no longer available, others have different discounts and a few brands have been added (Chipotle at 15% off, Groupon at 10% off and Uber at 10% off).