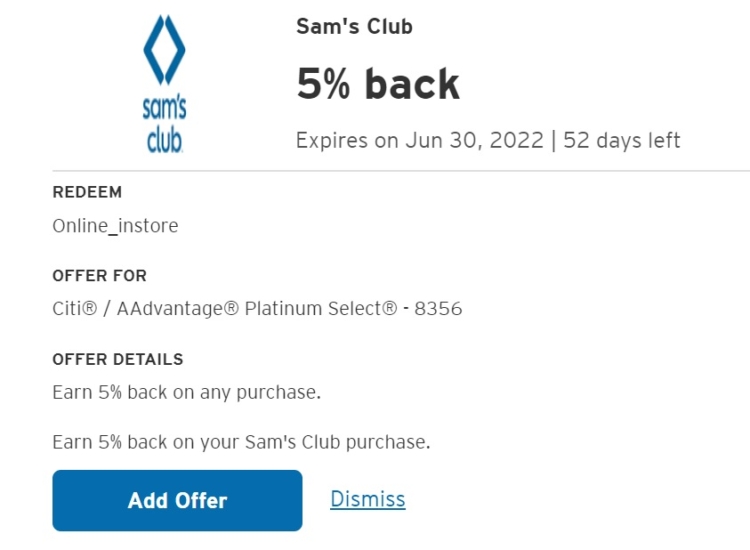 The Deal
Get 5% back at Sam's Club with a targeted Citi Offer.
Key Terms
Expires June 30, 2022.
Valid online & in-store.
Valid for US only.
Terms cannot include exclusion of health and beauty aides, wine, cold cough and flu, liquor, gas stations, cigarettes, cigars, beer, doctor fees, orders made on Walmart.com, gift card purchases.
You may not purchase products or services sold or promoted on SamsClub.com through a Qualifying Link for resale or commercial use of any kind.
Cash back is not included on orders placed using coupons, promo codes, or discounts, or if an order is cancelled, returned, or exchanged.
Tips & Ideas
It's not clear if they're trying to exclude gift card purchases from this offer or not. Normally gift card purchase wording in the terms would suggest that they are; however, the terms themselves are worded in a way that suggests it's not possible for them to exclude gift card purchases: "Terms cannot include exclusion of…gift card purchases".
What's also not clear is if there's a limit for how much you can get back as a statement credit. If there's no limit, that would make this Sam's Club Citi Offer better than the Cash App Boost when buying the $500 Airbnb gift cards that are on sale until May 11.
Sam's Club of course sells all kinds of other gift cards, from Visa, Mastercard and Amex gift cards to third party gift cards and Sam's Club gift cards.