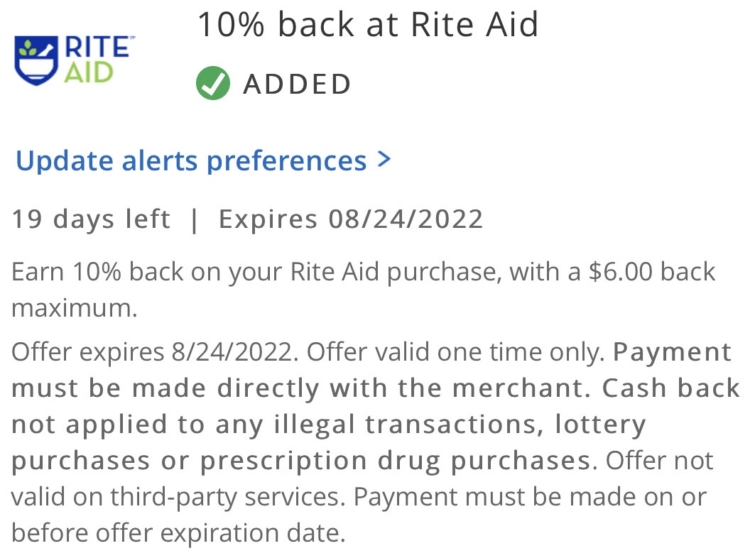 The Deal
Get 10% back as a statement credit on Rite Aid purchases with a targeted Chase Offer.
Key Terms
Expires August 24, 2022.
Offer valid one time only.
Maximum $6 back.
Cash back not applied to any illegal transactions, lottery purchases or prescription drug purchases.
Tips & Ideas
Some past Rite Aid Chase Offers had an exclusion for gift cards, but that seemingly went unenforced. That exclusion isn't there for this latest round, so there shouldn't be any problem spending $60+ on gift cards and getting $6 back. I'm curious what kind of "illegal transactions" you can undertake at Rite Aid though.
Unlike Amex Offers, you can add Chase Offers to as many cards as you have the offers on, so hopefully you get this Rite Aid offer on more than one card.
With a limit of $6 back, you'll max this out when spending $60. If you have the offer on more than one Chase card, you could ask to split tender when checking out to use 2+ offers on one purchase.
This offer might show up for other banks which run on the same backend for their offers like BankAmeriDeals from Bank of America, so check those accounts too.
h/t EW
Past Deal Expiry Dates
July 13, 2022
June 1, 2022
February 28, 2022
December 23, 2021
October 31, 2021
July 16, 2021
June 10, 2021
January 14, 2021
December 17, 2020
December 3, 2020
November 19, 2020
October 6, 2020
September 10, 2020
July 30, 2020
June 4, 2020