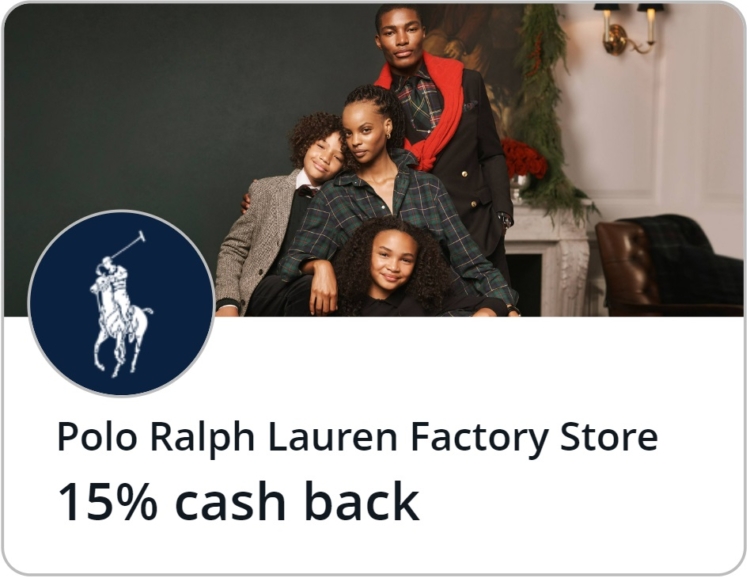 The Deal
Get 15% back as a statement credit at Polo Ralph Lauren Factory Store with a targeted Chase Offer or BankAmeriDeal.
Key Terms
Expires December 22, 2023.
Maximum$28.50 back.
Offer only valid on purchases made directly with the merchant.
Offer only valid on Polo Ralph Lauren Factory Store in-store purchases.
Offer not valid on Ralph Lauren retail or online purchases.
Offer not valid on purchases made using third-party services, delivery services, or a third-party payment account (e.g., buy now pay later).
Payment must be made on or before offer expiration date.
Tips & Ideas
Note that this offer is only valid at Polo Ralph Lauren Factory Stores rather than Ralph Lauren stores or the Ralph Lauren website. They don't sell gift cards online, but they sell Ralph Lauren gift cards in-store which means you can buy one to lock in the 15% discount.
In the past it was possible to link your payment card with an RCLON-backed in-store rewards program such as Rakuten in-store offers, Alaska shopping portal in-store or United shopping portal in-store. However, I'm not currently seeing Polo Ralph Lauren Factory stores listed on those sites, but keep an eye out in case it returns.
There might be a card-linked offer on Dosh too, so check your local offers in case that's an additional earning opportunity.
With a limit of $28.50 back, you'll max this offer out when spending $190.
Past Deal Expiry Dates
December 31, 2022
March 14, 2022
December 30, 2021
May 9, 2021
March 26, 2021