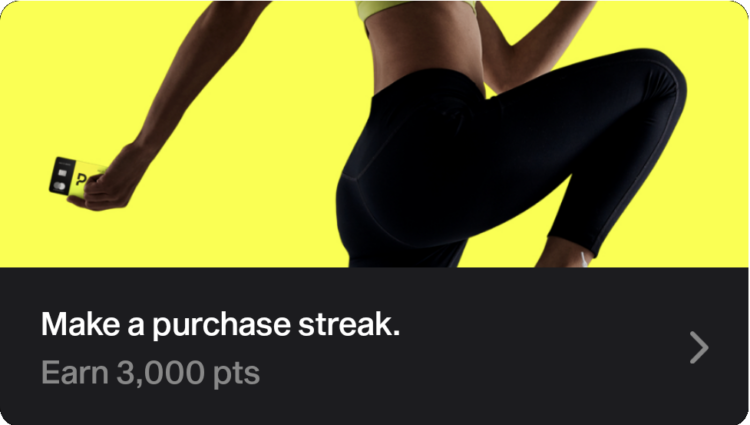 The Deal
Make purchases 7 days in a row totaling $200+ with the Point debit card & earn 3,000 bonus points.
My wife's referral link (you'll get a free year of Point when spending $200 before December 5, 2021).
Key Terms
You can receive 3,000 points if you spend any amount on seven consecutive days between 12:01AM PDT 11/25/2021 and 11:59PM PDT 12/24/2021 (excluding funds transfers and restricted MCCs) and the total amount over such seven day period is greater than or equal to $200.
You are responsible for any tax liability related to participating in the offer/program. Please consult your personal tax advisor if you have any questions about how this could affect your taxes.
This offer is subject to change and may be cancelled at any time without notice.
To be eligible for this bonus offer, account must be open and not in default at the time of fulfillment and transactions must settle within four weeks.
Please allow up to four weeks for points to post to your account.
Tips & Ideas
The Point debit card seems to run these streaks every month or so and they can be a good way to make a few extra bucks. Unfortunately they've watered them down over time based on how much you earn, how much you have to spend and/or how many consecutive days you have to spend on the card. For this latest streak you have to use the card seven days in a row whereas in the past it's always been five days in a row.
They can also be stacked with Access deals like 5x on Amazon and Best Buy. For example, let's say you spent an average of $28.57 per day buying gift cards from Amazon. You'd earn $10 from the 5x deal and an additional $30 from this Point streak promotion for a total of $40 on $200 spend – that's 20% back.
Note that Point excludes gift card purchases, but for most people there doesn't seem to have been an issue with bonus points posting.
Past Point Debit Card Streaks
5 days, $30 bonus, $200 total spend, ended October 2, 2021
5 days, $30 bonus, $200 total spend, ended September 11, 2021
5 days, $30 bonus, $200 total spend, ended August 20, 2021
5 days, $35 bonus, $200 total spend, ended July 3, 2021
5 days, $30 bonus, $100 total spend, ended June 12, 2021