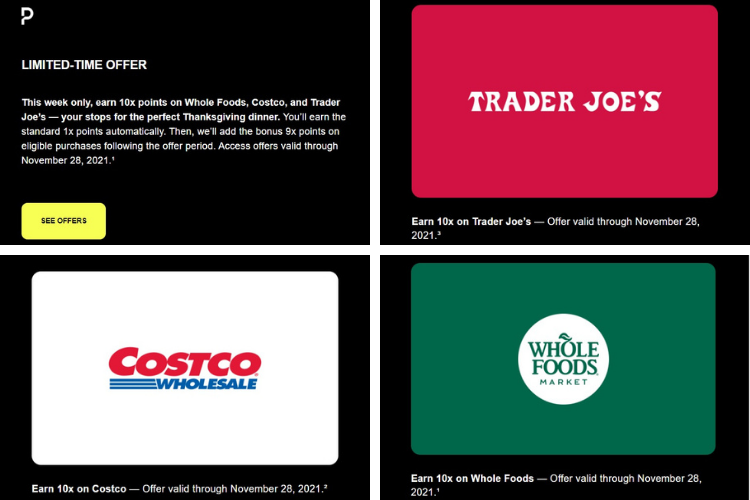 The Deal
The Point debit card is offering 10x at the following retailers:

Costco
Whole Foods
Trader Joe's

My wife's referral link (code: SPEPPER4)
Key Terms
Expires November 28, 2021.
Each cardholder can earn up to a maximum of 5,000 points on eligible purchases per retailer during this offer period.
Costco – Offer valid in-store.
Whole Foods – Offer valid in-store & online.
Trader Joe's – Offer valid in-store.
Excludes physical and electronic gift cards.
Tips & Ideas
10x is a fantastic offer because that's the same as 10% cashback. That means you'll max this out when spending $500 at each of these retailers.
Gift card purchases are excluded, but that's not been enforced in the past. That can make it much easier to max this out.
A couple of important things to note. Point has sent an email advertising this 10x rate, but it's not currently reflected in the Access section of the app – those are still showing 5x. It might therefore be worth waiting until the app shows 10x too just in case.
The other thing to note is that the terms state that the Costco deal is only valid in-store, so it seems like online purchases won't trigger the 10x offer.