Sorry, this deal has ended.
Update 6/3/22: Cash App Boosts have been fairly disappointing for the past year or so from a gift card-buying perspective. There used to be Boosts each week for grocery stores, the Post Office, etc., but other than occasional 10% Sam's Club Boosts there aren't many good opportunities for gift card buyers, especially seeing as you can get a guaranteed 9%-10% cashback from the Slide app on many gift card brands.
As a result, this'll be the last week that I republish this post with the latest set of Boosts. I'll keep checking them each week and if there's a notable deal (e.g. 10% Boost for Sam's Club) I'll publish a separate post about it.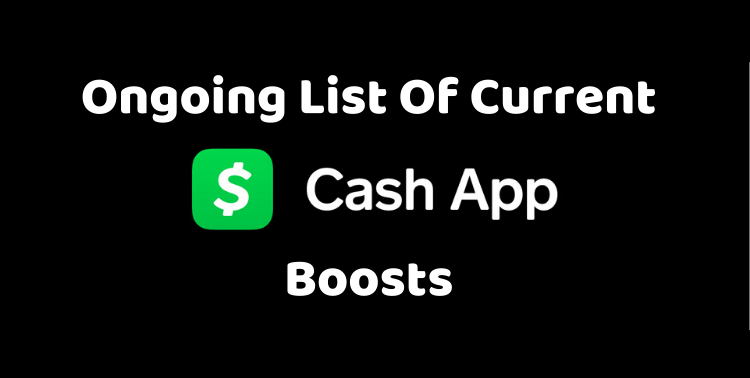 The Cash app is a mobile payment service that's developed by Square. In addition to allowing you to send money to other Cash app users, you're provided with a debit card that can be used in stores.
Paying by debit card isn't usually worthwhile because you're forgoing credit card rewards and protections, but in some cases it can be worth using your Cash app debit card thanks to Boosts.
In the app, tap the card icon, then tap 'Save With Boost'. This lists several different retailers – some online, some in-store – that offer you cashback on your purchase. In a number of cases, these can be used to buy gift cards which can, in itself, make a deal profitable. Some stores (e.g. Dollar General, grocery stores, etc.) run gift card promotions themselves, so paying with your Cash debit card can make those even more profitable despite the fact that you won't be earning credit card rewards.
You have to activate the Boost and you can only load one to your card at a time. Some Boosts can be used multiple times, while others are one-time use only.
Referral Link
If you've not registered for the Cash app yet, you can get $5 when joining and using someone's referral code.
My code is DVHNXBG which I'd appreciate you using – I'll get $5 too if you do 🙂 Here's a link to download the app from your relevant app store which should (hopefully) prepopulate the referral code. If it doesn't, there'll be a section in the app to enter a referral code in order to get your $5.
List Of Cash App Boosts
The Cash app seems to add new Boosts every few days, so I'll keep this list updated whenever new Boosts are loaded. The spending limits and cashback amounts for each Boost can vary, while some are only unlocked after you've used your Cash debit card a certain number of times, so all that information will be provided below too.
Any new Boosts will be highlighted in red; if an existing boost has its expiry date extended or other terms updated, I'll just highlight the relevant sections in red. n.b. If you read this through a feed reader like Feedly rather than on the website, the red coloring might not show up, so you'll need to click through to the website to see what's new/changed.
Not all of these retailers will allow you to save on gift cards, but I'll list them all anyway. This list will be ordered by expiry date to make it easier to see which ones are best to use ASAP. As mentioned earlier, you can only load one Boost at a time, although you can change your selection every 24 hours.
It seems like these offers might also be targeted. Readers have reported not seeing some of the offers listed below, while others have seen additional offers, so be sure to check the app on your phone in case you have any extra offers not listed here.
Shake Shack
15% of Bitcoin on each purchase
Expires June 10, 2022
Minimum purchase of $1.50
Maximum Bitcoin earned of $100 equivalent
Valid once every 24 hours
Uber Eats
5% off each order

Expires June 7, 2022

Minimum purchase of $1.50
Maximum discount of $5
Valid once every 24 hours
GoPuff
20% off one order

Expires June 15, 2022

Minimum purchase of $1.50

Maximum discount of $5
Crocs
10% off each purchase
Expires June 30, 2022
Minimum purchase of $1.50
Maximum discount of $50
Valid once every hour
Sam's Club
5% off each online purchase
Expires June 10, 2022
Minimum purchase of $1.50
Maximum discount of $20
Valid once every 24 hours
Flight Club
5% off one order
Expires June 10, 2022
Minimum purchase of $5
Maximum discount of $15
Taco Bell
5% off one order

Expires June 10, 2022

Minimum purchase of $1.50
Maximum discount of $3
Domino's
5% off one order

Expires June 10, 2022

Minimum purchase of $1.50
Maximum discount of $3
Adidas
5% off 10 online purchases
Expires June 24, 2022
Minimum purchase of $1
Maximum discount of $75
Valid once every hour
Online only
DoorDash (apparently no longer works for gift card purchases)
20% off one order
Expires June 23, 2022
Minimum purchase of $2
Maximum discount of $7
GOAT
5% off one order
Expires June 10, 2022
Minimum purchase of $5
Maximum discount of $15
Vudu
5% off one online purchase
Expires July 31, 2022
Minimum purchase of $1
Maximum discount of $50
Fandango
10% off one online purchase
Expires July 31, 2022
Minimum purchase of $1
Maximum discount of $50
Tillys
10% off each online purchase

Expires June 10, 2022

Minimum purchase of $1.50
Maximum discount of $50
Valid once every 24 hours
Online only
Fanatics
5% off each online purchase
Expires June 10, 2022
Minimum purchase of $1.50
Maximum discount of $10
Valid once every 24 hours
Online only
Twitch
50% off one purchase
Expires June 30, 2022
Minimum purchase of $1.50
Maximum discount of $100
Mattress Firm
5% off each in-store purchase

Expires June 30, 2022

Minimum purchase of $1
Maximum discount of $75
Valid once every hour