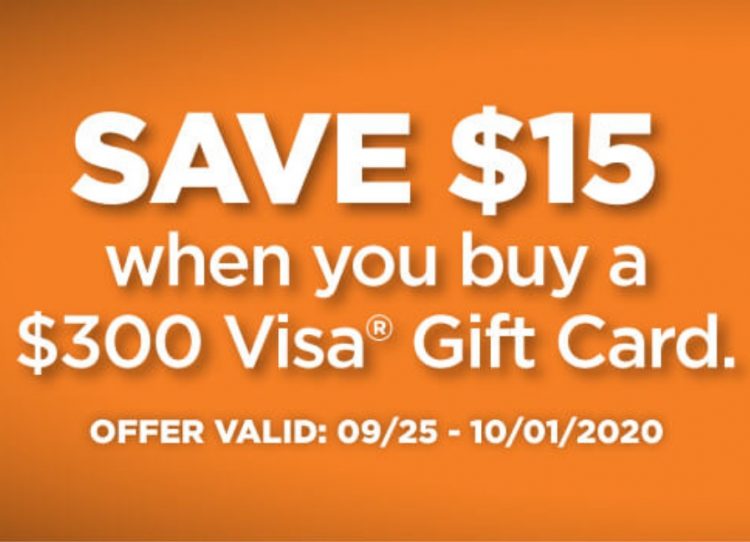 The Deal
Buy $300 Visa gift card from Office Depot/OfficeMax online & save $15 instantly.
Key Terms
Expires October 1, 2020 or while supplies last.
Limit 1.
Tips & Ideas
This is an excellent deal because you'll make $15 profit a $9.05 profit instantly after the $5.95 activation fee has been taken into account. (Update: Larry reminded me in the comments that the activation fee is waived on these deals too). You get free trackable shipping which makes the deal even better as it means shipping costs don't eat into the $15 discount either.
A few things to note about this deal. First, there was an offer giving $10 off a $100 Visa gift card last month which also had a limit of one, but that wasn't strictly enforced.
Second, I don't think it codes as 5x on a Chase Ink Plus or Ink Cash card. Despite being sold by Office Depot/OfficeMax, payment is processed by GiftCardMall and so won't code as office supplies.
Third, even though payment is processed by GiftCardMall, this is sold on a subdomain of Office Depot's website. As a result, it's worth clicking through to Office Depot from a shopping portal, then copying and pasting the link above in the address bar. It probably won't track, especially seeing as it's a gift card purchase, but it's worth a try anyway. You can find the rates here, here, here and here.
That $10 off $100 deal lasted several days which was much longer than I expected, but it'd be worth taking advantage of this new deal ASAP if you're interested because it'll probably be even more popular due to the higher profit and higher amount of spend.