Sorry, this deal has ended.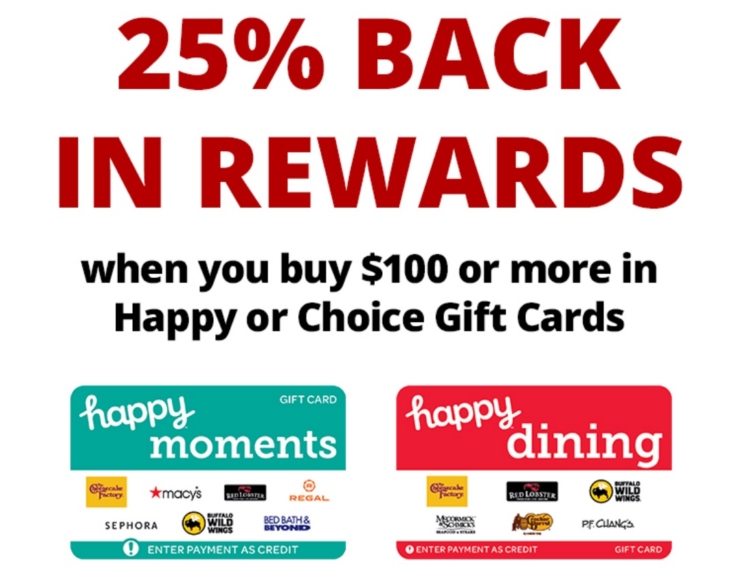 The Deal
Buy $100 Happy or Giving Good gift cards at Office Depot/OfficeMax & earn $25 in rewards.
Key Terms
Valid in store only from 4/24/22 to 5/7/22 or while supplies last, whichever occurs first.
Must present Office Depot OfficeMax Rewards Member # to cashier in store at time of purchase.
No rain checks.
Offer valid on Happy or Choice Gift Cards.
Excludes One4All gift cards.
Limit $25 in rewards per member.
Must meet $100 minimum spend in any combination of eligible Happy or Choice Gift Cards.
Product not available in Puerto Rico and the Virgin Islands.
Tips & Ideas
In the past this deal was only valid on Happy gift cards, but occasionally Giving Good and Choice gift cards are added to the mix. This time around only Choice gift cards are listed as being eligible in addition to Happy gift cards; what's a little strange is that Giving Good gift cards aren't listed as being eligible, but nor are they specifically excluded either.
For gift card resellers, the best play here (assuming Giving Good gift cards aren't eligible) is to buy a Choice Cheers To You! gift card and convert that to a Home Depot gift card.
You can make this even better by paying with a card that earns more at office supply stores, as well as by linking your card to Dosh to earn an extra 2% back (albeit with a $10 limit per day). Activate the card-linked offer in the Payce app for an additional $5 back (that's limited to $5 per month). Bitmo also offers 1 Perk Point per dollar at Office Depot/OfficeMax which is worth 0.1%. There's also a targeted Office Depot/OfficeMax Chase Offer giving 10% back.
Past Deals
December 12-18, 2021 (valid on Happy, Choice & Giving Good)
November 21-27, 2021
October 17-31, 2021
September 5-18, 2021
April 25-May 8, 2021
March 21-27, 2021
December 13-19, 2020
November 22-28, 2020
November 8-14, 2020
August 30-September 5, 2020
August 9-15, 2020
February 16-22, 2020