Blackhawk Network seems to update its Happy gift card range every couple of months or so, adding new cards, retiring cards or changing around the eligible retailers on select Happy brands.
This month is no exception as there are changes on both Happy Teen and Happy Bites gift cards.
Happy Teen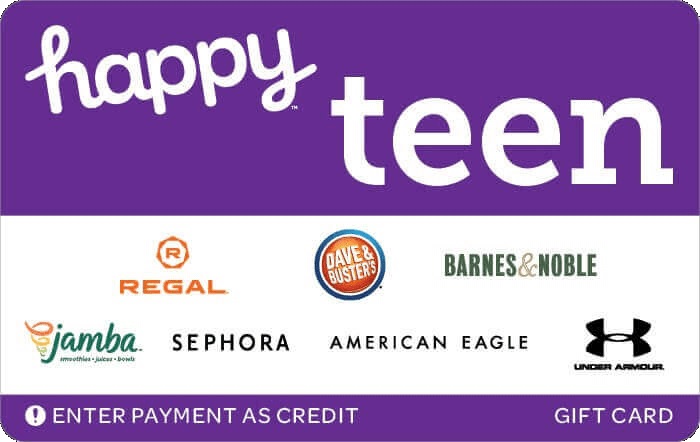 The first set of changes relates to Happy Teen gift cards. Here's the new retailer list for these gift cards which you can see in the image above:
Regal Cinemas
Dave & Buster's
Barnes & Noble
Jamba Juice
Sephora
American Eagle
Under Armour
Here's what the old card looked like and the retailers where it could be redeemed: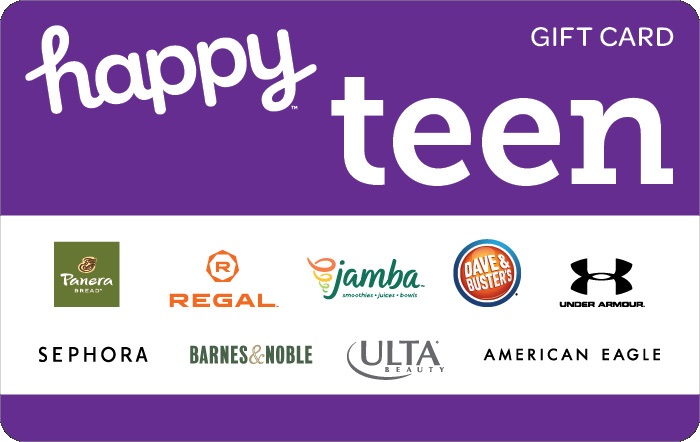 Panera Bread
Regal Cinemas
Jamba Juice
Dave & Buster's
Under Armour
Sephora
Barnes & Noble
Ulta Beauty
American Eagle
As you can see, the changes are that both Panera Bread and Ulta Beauty have been removed. That's not necessarily a huge loss seeing as both brands are available on other Happy gift card brands, but it's still a negative change.
It's interesting (well, to me it is anyway) that Ulta Beauty is being removed as Sephora was lost on a couple of other cards recently and Ulta Beauty was added to another of the Happy brands. I guess they're just doing a bit of rejigging right now.
This is the fourth different Happy Teen retailer lineup in the last two years which I think is the most changes of any of the Happy gift card brands.
Happy Bites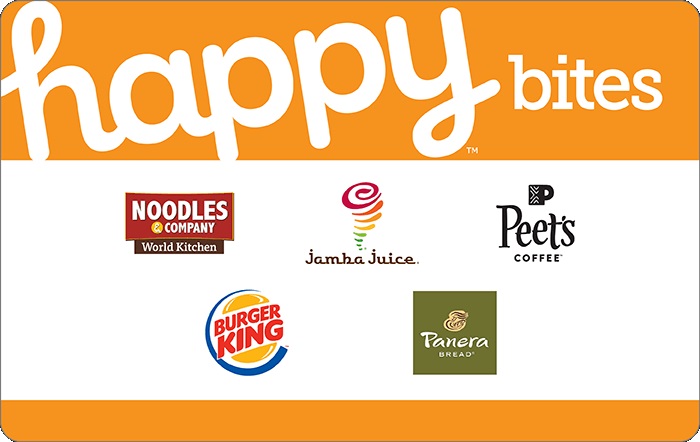 This other change that Blackhawk Network appears to have made is that they've retired the Happy Bites brand. It's no longer listed for sale on GiftCards.com or GiftCardMall (both owned by Blackhawk Network), nor on HappyCards.com.
This was probably one of the lesser desired cards as it can only be used at restaurants, so you can often get better discounts on their gift cards than you can for some of the retailers available on other Happy brands. Still, with the loss of Panera Bread from Happy Teen cards as well, that's two fewer Happy brands you can pick if you want to use it there.
Happy Bites was also the only Happy brand with Noodles & Company as an option, so this change will suck if you eat there frequently and bought Happy Bites cards during Happy gift card promotions in order to save money there.