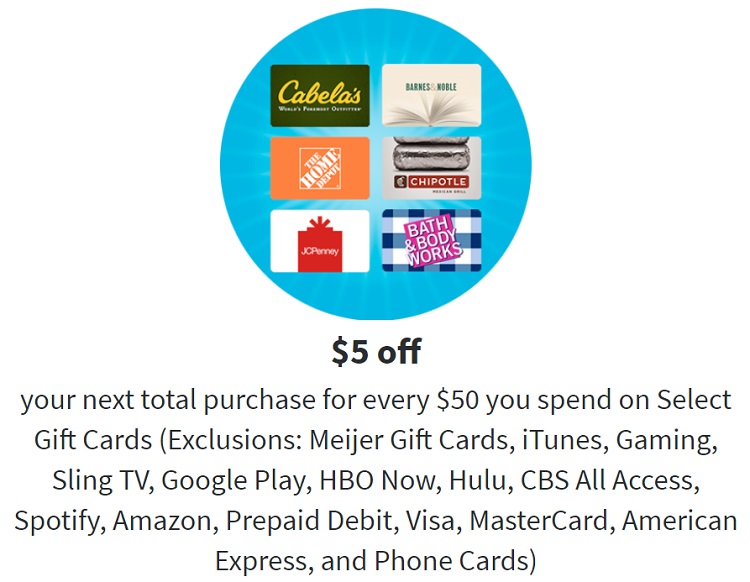 The Deal
Earn $5 off your next purchase for every $50 spent on gift cards at Meijer.
Key Terms
Offer valid November 13-December 10, 2022.
Limit 10 per customer.
Excludes the following gift card brands:

Meijer
iTunes
Amazon
Gaming
Sling TV
Google Play
CBS All Access
Spotify
HBO NOW
Hulu
Steam
Phone cards
Prepaid debit
Visa
Mastercard
American Express
Tips & Ideas
Meijer runs this deal fairly frequently and it's always a popular deal as it's an easy way to rack up $500 of bonused grocery store spend and make a profit reselling the gift cards if you're not using it for personal use.
As always with this type of mPerks rewards deal, Amazon gift cards and several other brands are excluded, but several other high value brands are eligible including Best Buy, eBay, Home Depot, etc.
A few things that are worth knowing for this offer in case you're not familiar with it:
Rewards – It's a reward offer rather than a digital coupon, so you don't have to load it to your account – it's already there.
Denominations – You can buy one $500 gift card to max out this offer – you don't have to buy ten separate $50 gift cards.
Load Time – The $5 rewards are usually loaded to your account within a couple of hours.
Use Full Value – If you don't use the full value of a $5 reward, the remaining amount is forfeited. If you max out this offer but only spend $47 on groceries, it's best to only redeem $45 worth of rewards and save the remaining $5 for another time, otherwise you'd forfeit the $3 left over.
Past Offers
October 9-29, 2022
September 11-October 1, 2022
June 26-July 9, 2022
May 29-June 18, 2022
April 24-May 7, 2022
April 3-16, 2022
March 20-April 2, 2022
January 30-February 12, 2022
November 14-December 11, 2021
October 10-23, 2021
September 12-October 2, 2021
July 25-August 14, 2021
June 27-July 10, 2021
May 30-June 19, 2021
April 25-May 8, 2021
April 11-17, 2021
March 14-April 3, 2021
January 31-February 13, 2021
November 29-December 12, 2020
October 11-24, 2020
September 13-October 3, 2020
July 26-August 15, 2020
June 28-July 11, 2020
May 31-June 20, 2020
April 12-18, 2020
March 8-28, 2020
February 2-15, 2020
November 17-December 14, 2019
September 15-October 5, 2019