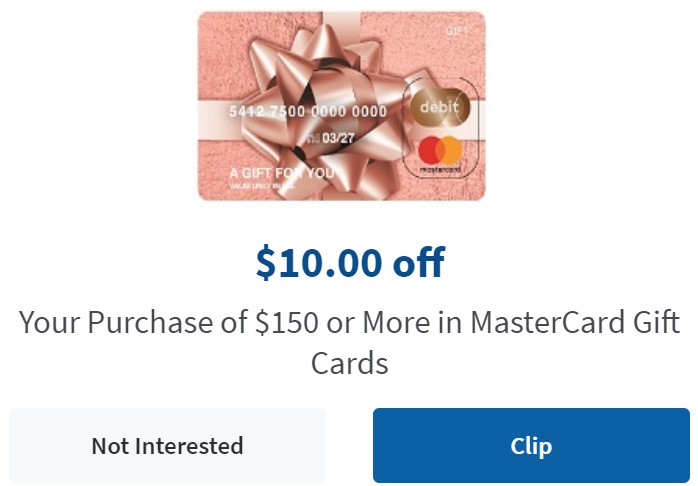 The Deal
Buy $150+ Mastercard gift card at Meijer & get $10 off instantly.
Direct link to offer (search for 'Mastercard').
Key Terms
Offer valid November 27-December 3, 2022.
Limit one use per coupon.
Must load digital coupon.
Tips & Ideas
This type of digital coupon works on variable load gift cards, so the best option from a points perspective is to buy a $500 Mastercard gift card and pay with a card that earns more at grocery stores. You'll earn a decent number of points and make a profit of $4.05 seeing as the purchase fee will be $5.95.
Note that unlike some gift card deals at Meijer, this isn't an mPerks Rewards offer which means you have to load the digital coupon to your account before making the purchase.
Past Deals
October 2-8, 2022
July 12-16, 2022
April 10-16, 2022
November 28-December 4, 2021
October 3-9, 2021
July 11-17, 2021
April 11-17, 2021
November 29-December 5, 2020
October 4-10, 2020
July 12-18, 2020
December 1-7, 2019
October 6-12, 2019
July 14-20, 2019
April 14-20, 2019
April 11-17, 2019