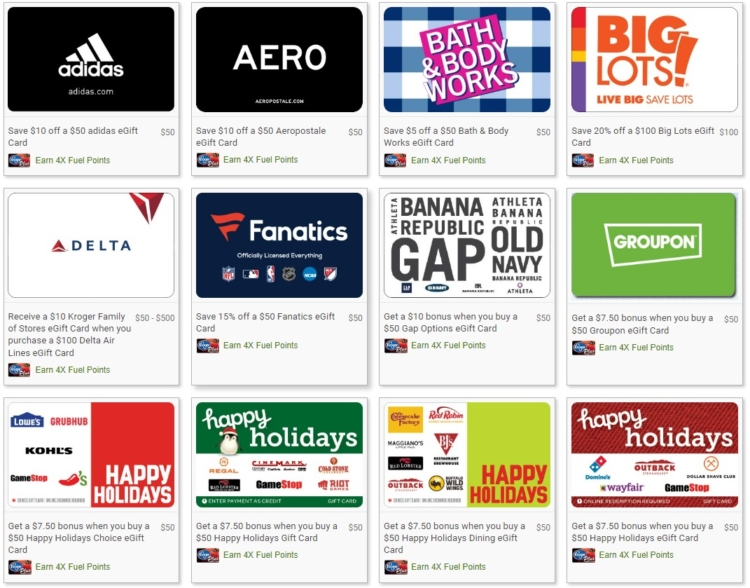 The Deal
Kroger is offering the following gift card deals online:

Buy $50 gift cards for $40 for the following brands

DSW
Adidas
Aeropostale
Home Chef
Lucille's Smokehouse Bar-B-Que
Spafinder
Vudu

Buy $57.50 gift cards for $50 for the following brands

Choice Game & Grub
Groupon
Choice Happy Holidays (red)
Happy Holidays (penguin)
Choice Happy Holidays (dining)
Happy Holidays (red)

Buy $50 gift cards for $45 for the following brands
Buy $100 gift cards for $80 for the following brands
Buy $100 gift cards for the following brands & get $10 Kroger gift card free
Buy $50 gift cards for $42.50 for the following brands
Buy $60 gift cards for $50 for the following brands

Gap Options
Old Navy
Sportsman's Warehouse

Buy $50 gift cards for the following brands & get $10 Kroger gift card free

Holiday Favorites (blue)
Holiday Favorites (red)
League of Legends

Buy $50 gift cards for $25 for the following brands
Buy $75 gift cards for $60 for the following brands
Buy $25 gift cards for $20 for the following brands
Buy $55 Starbucks gift cards for $50 for the following brands
Key Terms
Expires November 28, 2022.
Various limits.
Tips & Ideas
There are some pretty good deals available here, both for personal use and for gift card resellers. The deals become even better if you can make use of the 4x fuel points you earn.
As always with these gift card deals from Kroger online, payment is processed by Blackhawk Network which means it sadly doesn't code as a grocery purchase.
When Kroger (well, Blackhawk Network) launches a batch of deals like this, there's usually at least one deal which doesn't get processed as advertised (e.g. you'll get a $10 Kroger gift card instead of a $10 discount), so be sure to pay attention to the prices and/or bonuses listed in your cart before checking out.