Update 10/28/21: I'd been hoping that even if this deal appeared to sell out early on, that it would return with a different code a day or two later. However, they've sent an email to affiliates advising that they've sold out and so are ending the sale early, so it's not looking likely that it'll be back. Hope you managed to get at least one order fulfilled!
Update: Promo code TREATS is valid too.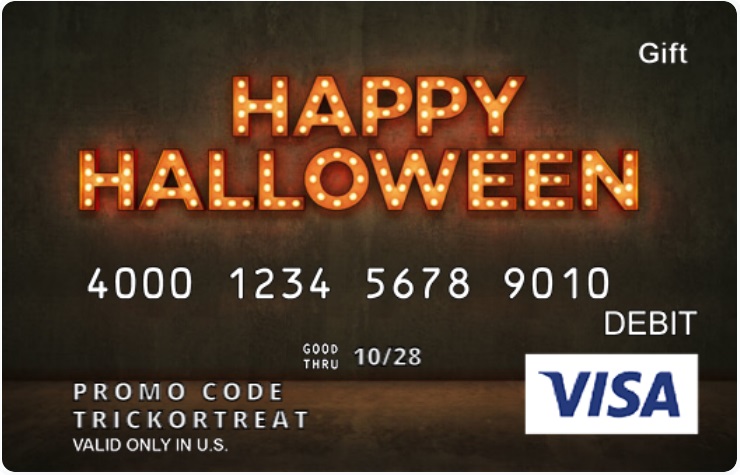 The Deal
Save 10% on virtual Visa gift cards from GiftCards.com when using one of the following promo codes:
Direct link to offer (our affiliate link).
Key Terms
Expires October 31, 2021.
Limit 3 VISA Virtual Gift Accounts from GiftCards.com while supplies last
Maximum value $75.
Excludes GiftCards.com for Business orders.
Tips & Ideas
GiftCards.com ran a similar offer back in July and it proved to be very popular seeing as they're offering free money. There's a maximum discount of $75; the maximum load per card is $250, so you'll max this out when buying three of those.
Note that it's not $75 profit as there's a $5.95 purchase fee, so if you buy three $250 cards you'll make $57.15 which still isn't at all shabby. It can actually get better than that though by clicking through from a shopping portal – here are the current rates. The cashback you'll earn from the portal will pretty much cover the purchase fees, so in reality you will end up with close to $75 profit. Update: The Alaska Airlines portal is offering 4x today (October 27)
When they ran this offer in July, the offer ended early but they then added a new promo code. There's no guarantee that'll happen again, so buy ASAP if you're interested in this.
Last time around it was possible for some people to get more than one order through, so that could be worth a try.
Note that this offer is for virtual Visa gift cards rather than physical cards. I don't know if it's possible to load these to a digital wallet to use in-store or if you're limited to redeeming them online-only.