Update 12/2/22: There are now multiple reports in the comments below, via email and elsewhere that Bitmo is generating gift cards that previously weren't working. It seems like most of these success stories happened after they'd contacted Bitmo, so it's worth sending an email to support@bitmo.com if you've got cards that haven't generated properly. If that doesn't work, someone else had success after reaching out to BBB.
Update 11/17/22: Another reader has reached out to advise that they emailed Bitmo asking them to close their account and that's been done. That makes this whole situation worse because it shows there's still people around capable of fixing problems, but they're choosing not to do anything relating to gift cards themselves.
Update 11/16/22: Another reader has pointed out that the CEO and other employees of Bitmo are now running an app called HungryFriend.
It seems like they've been lazy with HungryFriend seeing as screenshots from the app's website suggest it's a carbon copy of Bitmo's design: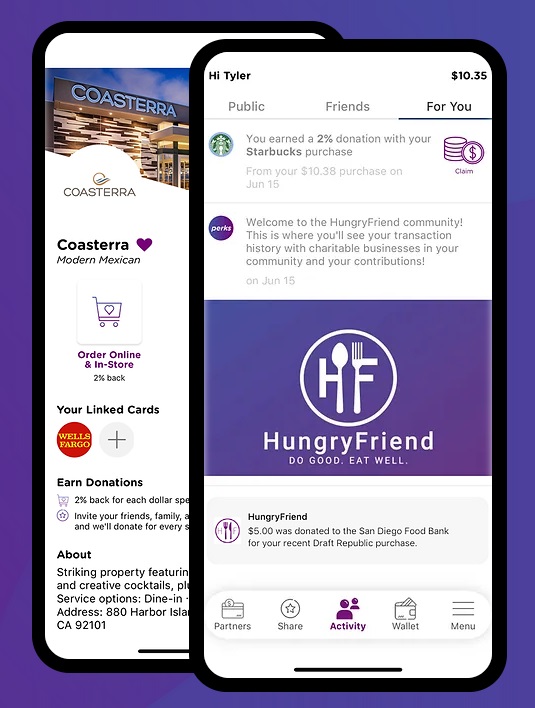 That makes it seem like they've given up on Bitmo and are focusing on this new venture, sadly leaving those of us with unactivated gift cards screwed.
It would therefore be an awful shame if people affected by Bitmo's behavior were to leave negative reviews for their new HungryFriend venture on Google's Play Store and Apple's App Store.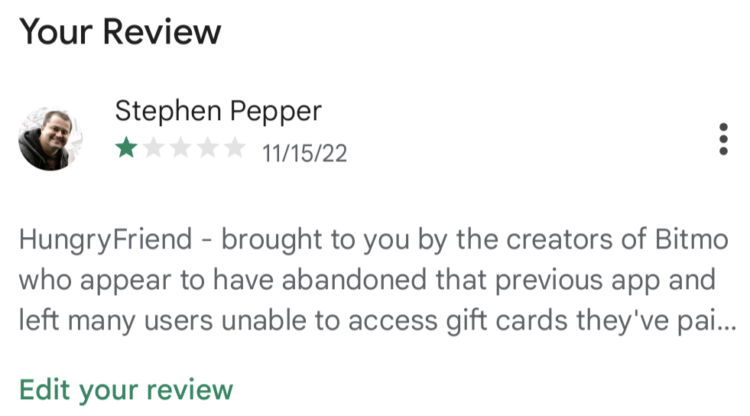 Update 11/15/22: A reader dropped me an email because they were smart and reached out to people on LinkedIn who had Bitmo in their current/past list of employers. This is the response they received from one of those people:
My sources say the company has not shut down, but they have pivoted to a new product/service. Thus, I'm sure support for Bitmo is going to be less than before. Sorry to hear about your experience and I wish you the best of luck getting your issue resolved.
That's a bit of a weird reply because I find it hard to imagine how Bitmo thinks they can pivot to a new product or service having seemingly de facto shut down their current service leaving people stranded with unactivated gift cards that people have purchased and/or redeemed points for.
It's now been a week since I first reached out to Bitmo and I still haven't heard anything, so it's certainly not looking good.
Here's the original post.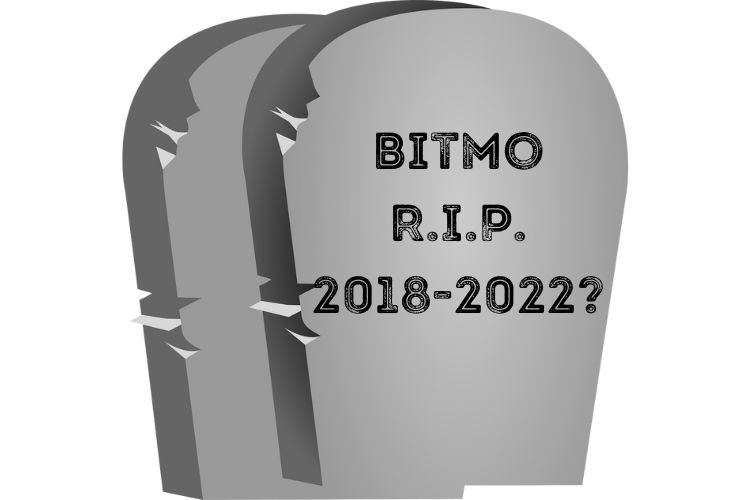 I'd held off on writing this post as I wanted to give Bitmo a chance to respond to an email I sent them 2-3 days ago, but I think it's time to post a warning that Bitmo might be shutting down.
The first indication that something might be wrong came a month or two ago. I'd tried to take advantage of an offer in the app, but it said that I'd purchased the maximum number of gift cards allowed in a 24 hour period despite not having bought any for several weeks.
I emailed support@bitmo.com to see if they could identify the problem. When there had been issues in the past, Ryan at Bitmo would respond to emails within 24 hours, but this time it took several days to get a reply which was that my account was fine and that I could buy gift cards like normal. I continued having the same problem though, so I replied to Ryan but never received any further reply. That didn't necessarily mean anything in and of itself though.
The next warning sign came 1.5 weeks ago. Bitmo used to launch several new gift card deals in the app at the beginning of each month, switching them up as the month went on. However, it's now November 11 and there haven't been any deals at all this month. Again, that didn't necessarily mean anything in and of itself either.
What started raising more alarm bells is what happened a few nights ago. I had some points sitting in my account from past gift card deals, so I redeemed 50,000 of them for a $50 Panera Bread gift card. The redemption seemed to work OK and the card appeared in my wallet. However, when clicking 'Use Card' to generate it, I got an error message saying 'Card order is still processing and should be available shortly'.
That didn't necessarily seem untoward as I've had occasional problems with cards not being generated immediately in the past, so I gave it an hour and tried again. Still no luck. I then gave it 24 hours but it still wouldn't generate. At that point I emailed Bitmo support to ask them to fix the issue.
I wasn't overly concerned at that point, but the following day I received an email from a reader mentioning that they'd had problems generating gift cards too. Then several other reports of this same issue cropped up in a group I'm in. I'd initially assumed it had been a problem with my one redemption, but the problem is clearly widespread.
That was 2-3 days ago and I've still not heard back from Bitmo which, based on past experiences where they'd reply relatively promptly, doesn't bode well. It seems like no one is able to generate gift cards in their app and they're not responding to people's emails, so I can't help but be concerned that they've run out of money and are in the process of shutting down and simply aren't advising their customers of this.
Let me be clear that I don't know for certain that that's the case given that Bitmo is being non-communicative, but all the warning signs are there.
What Does It Mean If Bitmo Is Shutting Down?
There are a few implications if Bitmo is indeed closing. First – don't buy any gift cards from them. With gift cards not generating properly, there's no point giving them your money and getting nothing in return.
Second – if you bought gift cards from Bitmo in the past and did generate them, you should still be able to access all those card details. If you don't have a record of those card details already, be sure to go through and make a note of them and/or take screenshots of them so that you have access to them in case the app goes offline abruptly.
Third – if you have cards that you'd not generated yet, you might be SOL. Nonetheless, it would be worth a) trying to generate them anyway and b) if you can't generate them, send an email to support@bitmo.com. Hopefully you kept records of which credit card(s) you bought them on as it might be possible to do a chargeback. However, also take into consideration whether you've been doing any manufactured spending on those cards. If you have, it might not be worth putting eyes on your account(s) for the sake of a $25 gift card.
Fourth – if you have Bitmo points sitting on your account from past gift card deals, you might be SOL too. Unfortunately, that's the boat I find myself in despite writing a few months ago that you should redeem points from apps like this in case this precise situation happens! I guess it's a case of "Do as I say, not as I do". Between my wife and I, we had about $100 worth of points on our accounts. That's not a huge loss if Bitmo does indeed go under, but I do wish I'd redeemed the points sooner like I'd recommended.
Anyway, I'd love it if this was a false alarm and that Bitmo is just struggling with technical issues that they're focusing on rather than dealing with the customer care side of things. However, based on their Crunchbase profile, they don't appear to have raised any new funding for more than 3.5 years. I never bought gift cards from them other than when they were running deals and I imagine that's the case for a lot of users, so it shouldn't be too surprising if they have finally run out of funding.