Update 11/26/21: This offer goes live today.
Update 11/25/21: Ben has pointed out in the comments that a bunch of other gift card brands are pictured on this page including Amazon. It therefore seems like this promotion might be valid on all third party gift card brands which would presumably include Best Buy too, making this an even better deal.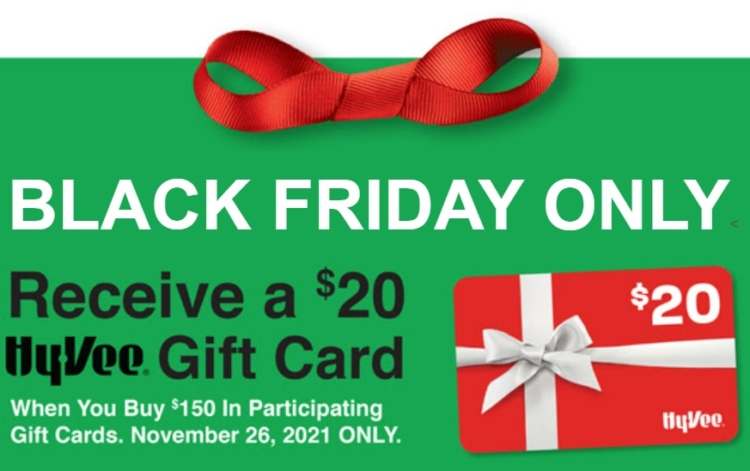 The Deal
Buy $150 gift cards for the following brands at Hy-Vee & get a $20 Hy-Vee gift card free:

Home Depot
Apple
Kohl's
Starbucks
Bass Pro Shops
Buffalo Wild Wings
Xbox
Netflix
Applebee's
Sephora
Chipotle
Darden
Bed Bath & Beyond
Lowe's
Fanatics
Texas Roadhouse
Brinker/Chili's
Fandango
Spafinder
PlayStation Store
DoorDash
Key Terms
Offer valid November 26, 2021 only.
Limit 1 reward per transaction.
Tips & Ideas
This is an excellent offer because if you value the $20 Hy-Vee gift card as good as cash, it's like getting 13.33% off. That's a great discount on high value brands like Home Depot, Apple, Lowe's, Sephora, Kohl's, Netflix, Starbucks, etc.
Even better is the fact that although there's a limit of one per transaction, there's seemingly no limit on how many transactions you can do. If you live near one or more Hy-Vee stores, that could make this one of your best options for where to spend the 26th.
I'll republish this post on Friday once it's gone live.