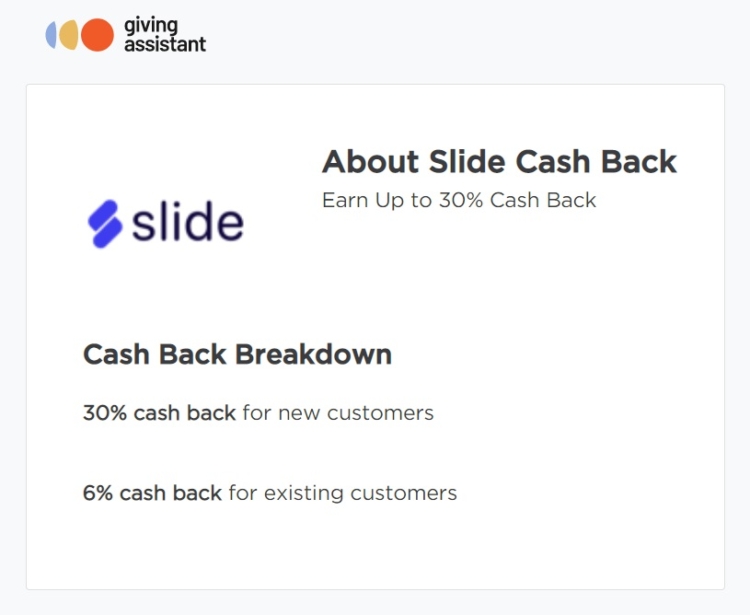 The Deal
Giving Assistant is offering the following cashback rates for Slide if you're a 'Power User'

30% – new Slide user
6% – existing Slide user

My Giving Assistant referral link – we'll each earn $5.
Key Terms
Power User status costs $5.99 per year.
Tips & Ideas
Whenever seeing cashback rates for Giving Assistant on Cashback Monitor, I've always mentally halved those rates because I was a 'Savvy Shopper', or so I thought.
Basically, Giving Assistant has two earning levels – Power User and Savvy Shopper. Being a Savvy Shopper is their standard level that costs nothing, while the Power User level costs $5.99 per year. I'd never been interested in paying more for the privilege of earning a higher rate through a portal seeing as TopCashback usually offers the same high rates for free and so I've always ignored Giving Assistant.
However, Akiva mentioned that Giving Assistant was offering 6% cashback for existing Slide users versus 4% from TopCashback, so that made me take another look. I'd expected to see a 3% rate on my account due to being a Savvy Shopper, but 6% was showing up for me. When checking my account settings, it shows me as a Power User despite never having paid $5.99, but perhaps that's the default if you've not actively changed to Savvy Shopper status and $5.99 will be deducted from my first earnings.
Anyway, this made me realize that I shouldn't have been ignoring Giving Assistant despite the $5.99 annual fee if I want access to higher rates. That's because an extra 2% on Slide purchases can add up pretty quickly. In fact, spending only $300 on Slide would earn an extra $6 cashback versus what I'd earn on TopCashback at 4% which would cover my Power User costs for an entire year. Considering how much break even or profitable spend you can put through Slide, paying $5.99 per year to earn 2% extra on all Slide purchases could make a lot of sense.
Doing that means you'd be earning 6% from Giving Assistant and up to 6% cashback from Slide for a total of up to 12% cashback. That's an excellent return considering some of the high value brands purchasable on Slide on top of the credit card rewards you earn.
I've always had good luck with TopCashback tracking but have also heard good things about cashback being credited when people have had to make a claim, so I'm reluctant to switch over to Giving Assistant in case their tracking and/or customer service isn't as good. However, for an extra 2% cashback on a lot of spend, that potential extra hassle could be worth it.
h/t Akiva