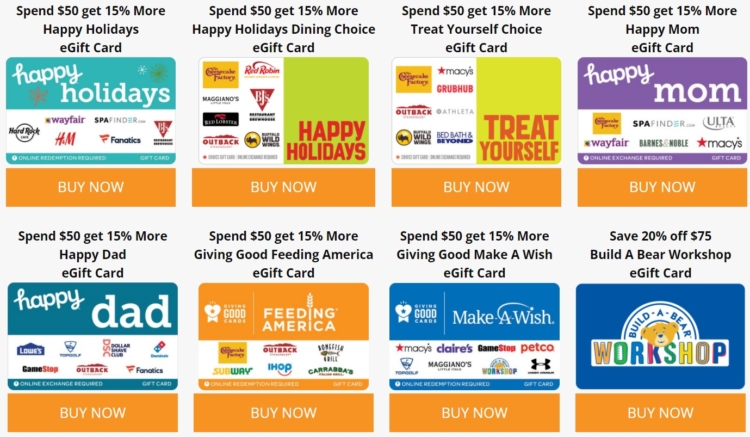 The Deal
GiftCardMall is offering the following new gift card deals:

$57.50 gift cards for $50 for the following brands:

Happy Holidays – 1
Happy Holidays – 2
Treat Yourself
Happy Mom
Happy Dad
Giving Good Feeding America
Giving Good Make-A-Wish
Food & Laughs
Thanks Teacher
Happy Bride

$75 Build-A-Bear Workshop for $60

Direct link to offer (our affiliate link).
Key Terms
Expires November 30, 2021.
Limit 3 per brand.
Tips & Ideas
There are some good deals here, but note that the physical gift cards have a $1.99 shipping fee which makes this a less exciting prospect. Having said that, you can earn up to 5% cashback by clicking through from TopCashback and so that makes the deals more worthwhile.
Note that the 5% rate is for Happy gift cards; there have been reports in the past of Choice and Giving Good gift cards tracking at 2%, so bear that in mind if that affects the profitability of some of these deals.