Sorry, this deal has ended.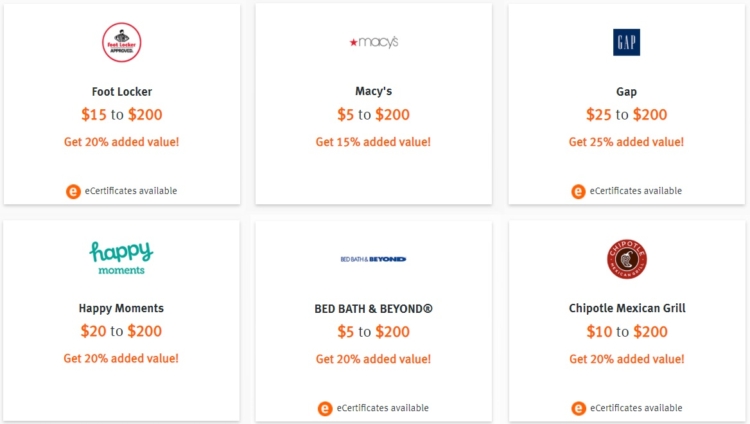 Discover has improved the redemption rates on a number of different gift card brands when redeeming your Cashback Bonus. I don't keep a record of what the rates normally are for each brand, but I'm pretty sure the following brands currently have higher discounts than normal:
Athleta – 25%
Banana Republic – 25%
Bed Bath & Beyond – 20%
Buy Buy Baby – 20%
Chipotle – 20%
Foot Locker – 20%
Gap – 25%
Happy Dining – 20%
Happy Moments – 20%
Happy Rewards – 20%
Macy's – 15%
Old Navy – 25%
Under Armour – 20%
Note that Discover is underselling how good these deals are. They list these as having x% added value, but it's actually an x% discount which is even better. For example, if you want a $100 Gap gift card it'll cost you $75 of your Cashback Bonus which is a 25% bonus. If it was 25% added value, you'd have to redeem $80 of your Cashback Bonus for a $100 gift card.
Redeeming points like Membership Rewards and Ultimate Rewards for gift cards is a poor value as you can get much better value from those types of transferable currencies by transferring to travel partners or other features like Pay Yourself Back. With Discover though, redeeming your cashback for gift cards can be the very best option possible.
For example, if you redeem $100 of your cashback for a statement credit, you get $100 of value. If you redeem $100 cashback for, say, $125 of Foot Locker gift cards and resell those at a better-than-80% rate, you're getting more than $100 back.
Note that the brands listed above aren't the only ones worth considering for reselling purposes. For example, Discover offers a 20% discount when redeeming cashback for Nike and Burlington gift cards too – the list above is just brands that seem to have a higher discount than normal.