Update 10/19/20: The $120 statement credit from this Delta Amex Offer has now posted to my account.
Update 10/15/20: I decided to bite the bullet and become the data point I'd like to see in the world by buying a $300 Delta gift card with this Amex Offer. I did this just now and immediately received an email from American Express confirming I'd used the offer, so that means the $120 statement credit should follow.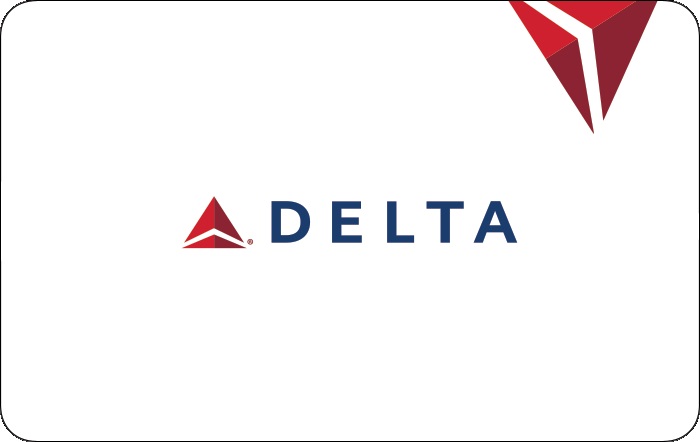 The Deal
Spend $300+ with Delta in one or more transactions & get $120 back with an Amex Offer.
Key Terms
Expires December 31, 2020.
Offer valid for purchases made directly with Delta Air Lines through U.S. delta.com, via Fly Delta U.S. App, and U.S. reservation telephone line.
Flights must originate in the U.S., including U.S. territories, and purchases must be in U.S. dollars to qualify.
Offer valid only for purchases where Delta Air Lines is the merchant of record, such as airfare, fare upgrades, seat selection fees, baggage fees, standby fees, and Delta Sky Club® memberships.
Excludes the following: (i) purchases in-person at the airport where Delta is not the merchant of record, lounges, and sales offices, (ii) all purchases on-board flights including food, beverage, and WiFi, (iii) stand alone hotel bookings and car rentals through delta.com, (iv) purchases through third parties or affiliated agents, and (v) Delta Vacations®, Delta Dive, Delta Cargo, On Demand Charter services, Delta Flight Museum, SkyMiles® Marketplace purchases, SkyMiles Experiences™, SkyMiles Cruises, Delta Meeting Network, (vi) travel insurance/trip protection, gift card purchases, and charitable donations.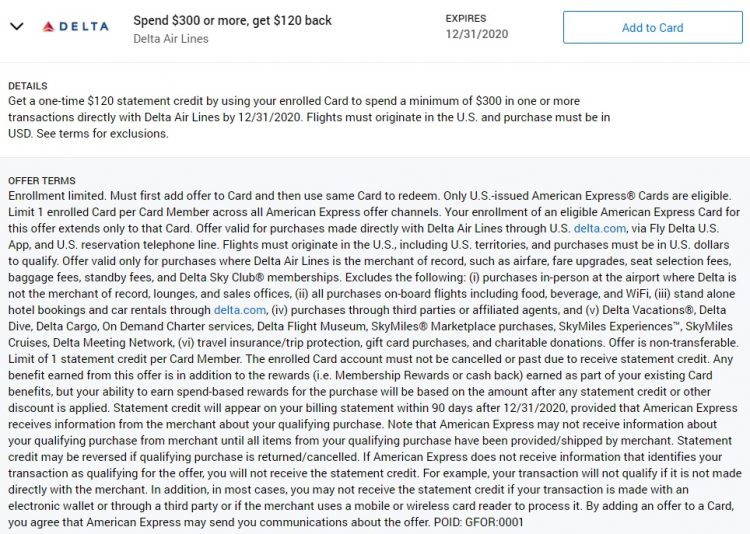 Tips & Ideas
Note that this Delta Amex Offer has an exclusion for gift card purchases. However, with past Amex Offers for Delta there's been the same exclusion, but buying a Delta gift card has still worked to trigger the statement credit from the Amex Offer. There's no guarantee that'll still work though, so hopefully we'll start to get some data points soon.
My wife and I had this offer on all our Membership Rewards-earning cards but no others, although your experience might be different. The best card to add this offer to will be a personal Amex Platinum as that offers 5x Membership Rewards when spending directly with airlines.
This is a fantastic offer though because $120 back on $300 of spend is a 40% discount. That'll make this profitable for reselling, although the resale rates will no doubt drop a little as the market will get flooded with Delta gift cards if this offer is widely targeted.
Be sure to save this offer to your card(s) ASAP in case there's a limit as to how many people can use the offer.