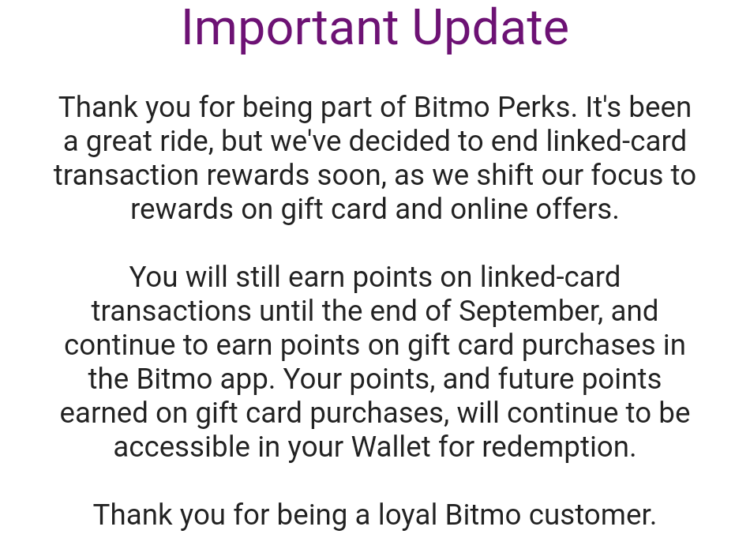 Back in 2021, Bitmo added a new feature to their app. This new feature awarded bonus Perk Points when paying with a linked card at dozens – or possibly even hundreds – of retailers.
At 1x Perk Point per dollar spent, the reward rate wasn't very generous as that's only worth 0.1% back in rewards that could only be redeemed for gift cards in the app. Having said that, it was still a good program in some ways. With it being card-linked, once you'd linked your cards you initially didn't have to take any action to rack up the points, although in recent months Bitmo did start making you claim the points in the app or they expires.
Another useful aspect of the program is that eligible retailers includes large grocery store chains, Staples, Office Depot/OfficeMax, etc. and so it was an easy way to earn points for people buying gift cards at those stores.
Unfortunately this program doesn't seem to be providing Bitmo with enough benefits themselves because they've announced that they're ending the card-linked program. Here's what the app says when opening it:
Thank you for being part of Bitmo Perks. It's been a great ride, but we've decided to end linked-card transaction rewards soon, as we shift our focus to rewards on gift card and online offers.

You will still earn points on linked-card transactions until the end of September, and continue to earn points on gift card purchases in the Bitmo app. Your points, and future points earned on gift card purchases, will continue to be accessible in your Wallet for redemption.

Thank you for being a loyal Bitmo customer.
Gift card deals in the app have been fairly poor in recent months, so it'll be interesting to see if those improve once that's their focus rather than this card-linked program.